Usually, processes in companies are well thought-through in theory. Yet everyday practice often looks different. There are deviations, diversions and bottlenecks. Alternative process flows may prove to be efficient for the individual team member and to be the faster route to the destination. However, transparency, compliance and greater economies of scale are often abandoned as a result.
This E-3 Special is available for download at the bottom of the page.
The Celonis process mining technology uses companies' IT data to reconstruct and visualize processes. Each process can be optimized, in companies of any size or business sector – whether the subject is Purchasing, Production, Sales, Logistics or Customer Service.
What Can Process Mining Do?
Celonis Process Mining fits together the process steps stored in various IT systems. It analyzes as-is processes in companies, automatically and end-to-end. It makes perfect transparency possible at any moment in time and at any depth.
Instead of investing a lot of time in the problem analysis, companies can deploy Process Mining to concentrate directly on measures aimed at greater operating efficiency.
Companies see at a glance why orders take up more time than originally scheduled, or why delays in supply and diversions emerge in purchasing. The diversity and impact of the insights gained through Celonis are often very surprising for customers.
A lot of users already sense that certain processes in the company could be improved. However, often the core problems are not where they are initially thought to be.
Celonis Process Mining reveals at a glance where actual status deviates from target status, where the reasons are located and what effect these deviations have on the company's overall efficiency.
User normally pursue one of the following goals with Process Mining: identifying best practices, reducing process costs, shortening throughput-times, raising process quality, standardizing processes or improving compliance in the processes.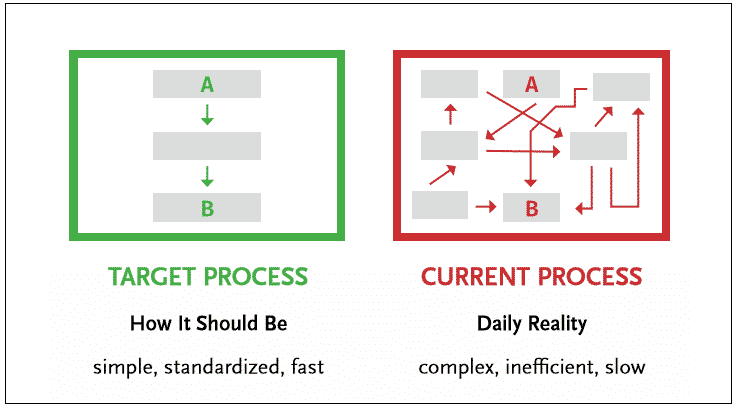 How Do SAP Application Users Benefit?
A typical SAP system contains valuable data about a company's business processes. Accordingly, Process Mining is a strategically relevant and interesting topic, notably for SAP users. Up to now, the assessment of information was often complicated – with Celonis Process Mining it isn't.
Through many years of experience with SAP environments, SAP systems' link-up to Celonis is almost completely automated. It is extremely easy to set up and operate Celonis' solution, providing customers with the opportunity to work with a productive process-mining solution, rapidly realizing results and process improvements.
Celonis uses Hana's performance capability to conduct real-time processing and assessments of its customers' data, in some instances very large data quantities. The Siemens example shows this – a good 30 terabytes of data are analyzed on Hana.
Process Mining's prerequisites are interactive performance and split-second processing. Even for complex scenarios involving many systems, Hana can be used as high-performance, central data platform.