Statistics 2020
---
The independent and global Webzine devoted to the international SAP community.
---
Jump to Content
Klick on the links below to jump to the given section
---
Who We Are
For almost 20 years, Germany-based E-3 Magazine has covered the development of the SAP community in the D/A/CH region. Now, we are bringing the best independent news outlet for SAP-related topics to the global stage.
e3zine is a special-interest magazine devoted to SAP software and related topics. It's a community magazine covering business and technical solutions in today's SAP marketplace. Our articles add to and expand the information supplied by SAP itself, but it is important to mention that we are completely independent of SAP user groups like DSAG as well as SAP itself. e3zine targets all kinds of users, from IT beginners to computer center supervisors. Lively and accurate journalism gives readers broad knowledge and new insights into SAP solutions and their working environments.
---
High Tech to Provide Quality Content
Great journalism is our mission, but that is far from the end of the story: We are also trying to provide the best user experience possible while browsing our articles. Our online team is focused on delivering that experience by a large list of cutting-edge technology running in the background.
Sounds like an exaggeration? We are not limiting ourselves to constantly improve on things you see at the front-end, like load times and availability worldwide. Among other things, we are running semantic analysis in the background to provide you with more than just a few suggested articles from the same category. There's more to be gained from your valuable reading time if you can get suggestions on the same topic but also from a different perspective! How about getting a user report or success story in addition to the analyst report you just clicked on? The possibilities are truly limitless.
---
Get our Content Wordwide
To make sure you are always getting the content you want within the shortest possible time, we have put our site on a state-of-the-art Content Delivery Network (CDN). Regardless of whether you are in Asia, Oceania, Europe, the Americas or Africa: you can always take e3zine.com with you!
After all, it is about matching the global scope of information we provide with the global scope of the work you do every day.
---
Call for Papers
The community is very important to us – so important that we actively want to encourage you to participate! Do you have a story to share but don't know how to get it out to the world? e3zine.com is the platform for you! Feel free to contact us at any time, and together with you, our editorial department will create a combination of content and advertisement that best fits your needs. We're glad to help!
Want to make sure you stay up to date? Don't forget to subscribe to our newsletter and to follow us on Twitter, Facebook and LinkedIn!

---
Editorial Guidelines
Some of our readers wonder why certain naming conventions that are standard in the industry do not apply to us. We are aware that a lot of our readers are spending a significant part of their day in front of screens, mobile devices, and tablets. Not only does that take a toll on our reader's eyes, it also makes focusing on a very specific, in-depth report hard – no matter how good the article may be.
Companies big and small often invest thousands of dollars and hundreds of hours into exploiting the full potential of the ASCII code in order to make their product names, logos, press releases, etc. look as unique and recognizable as possible. This may be great when placing said logos and products on an advertising wall next to a highway, where potential customers are driving by at 60 mph. However, when faced with large bits of text over the internet, the reader often does not appreciate the effort nearly as much as originally intended.
Over-use of capital letters and a myriad of abbreviations coupled with often complex topics can make reading well-researched articles a quite exhausting task. As a platform for information and community building, we want to make sure that our content is easy to read and to understand.
We have hence set forth the following editorial guidelines when it comes to creating our content: If you say it like a name, we write it like a name. Best example would be SAP's Hana platform. We all pronounce Hana as if it was a name, so there is only a capital letter at the beginning despite the official product name being SAP HANA®.
In contrast, nobody would say Sap (as in sap-ling for instance) when talking about the German company, so SAP (pronounced S-A-P) will keep its capitalization. This is a tried-and-tested journalistic approach to providing a better reading experience and has also been in practice at large news outlets and magazines for many years around the globe.
In addition, whenever legally possible, we will remove © and ® to the same end. Of course, this whole matter is at the discretion of our editors: It would hardly make any sense to let go of the capitalization of names that otherwise denominate different things. Think of the US Navy's SEAL Team for example. In addition, we try to avoid including designations for legal forms of organization such as Inc., Ltd., etc. for the reasons already outlined above.
Lastly, our goal is to provide our readers with in-depth information. While content in the form of videos or streams usually works, please note that requests for publishing infographics without much additional information will go unanswered.
---
Advertising on e3zine.com
Advertising is about your story, your products and your customers. Consequently, we made advertising on e3zine.com simple to make sure you get the best results for your investment. Every offer can be modified to make sure we fit your requirements. To get started, get our Mediakit for 2021 at the top of the page.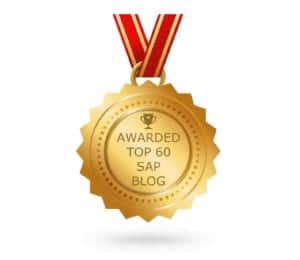 Ranked No. 5 @ Feedspot Top 60 SAP Blogs 2019
---
Fair Use Policy
We are aware that articles published on our site may be of value to you and your customers. To minimize bureaucratic requirements for re-use of our content, please follow the guidelines below:
Usage rights for content published on e3zine.com will remain with B4Bmedia.net AG without exception.
The following guidelines are applicable for online publications only. For re-use in print publications please contact our editorial staff.
To re-use our content in parts or as a whole, you are required to re-link to our original content from your website. You are further required to not only link but also notify your audience that the content you used has been published as an original on e3zine.com first.
Linking and declaring re-use is also applicable for relevant publication on your social media channels. Due to character limitation, it is sufficient on Twitter to tweet at us @e3zine or simply retweet our original content.
Please note that images published with our content are not covered by this fair-use policy. License to image material must be obtained separately from the corresponding authors.
For re-use of our content in print publications or questions regarding our Fair Use Policy, please contact our editorial staff through our contact form.
---
e3zine.com Publisher B4Bmedia.net AG, Munich (Germany): GENERAL TERMS AND CONDITIONS
1. An advertising order as defined by the following General Terms and Conditions is the contract for the publication of one or more advertisements of an advertising customer in print or online publication of B4bmedia.net AG (hereinafter referred to as B4bmedia.net). The advertising order becomes legally binding immediately after written confirmation by B4bmedia.net. Additional oral agreements become effective immediately after written confirmation by B4bmedia.net. Fax or e-mail are accepted as written forms. Solely the General Terms and Conditions of B4bmedia.net apply to the advertising order. Unless B4bmedia.net explicitly approves of their validity on a case-by-case basis, the customer's General Terms and Conditions do not become part of the contract so far as they are inconsistent with or deviating from the General Terms and Conditions of B4bmedia.net.
2. Each advertising order is linked to a specific media product of B4bmedia.net and contains a detailed plan of publication for the advertisements and the booked issues. Orders for advertisements and third-party inserts that are to be placed exclusively in specific magazine issues, specific editions or in specific spots in the publication must be submitted to B4bmedia.net in a timely manner, i.e. no later than the advertising deadline according to the currently effective media kit so that the customer can still be informed in time if an order can be carried out or not. Cancellations or deferrals of advertisements must be submitted to B4bmedia.net at least four weeks before the advertising deadline of the respective magazine issue. Exceptions are yearly or quarterly offers for which the cancellation date is set separately in the offer and the order confirmation. If the deadline is exceeded, B4bmedia.net is still entitled to payment due to the allocation and reservation of the advertising space in print.
3. Advertisements which are not recognizable as advertisements due to their editorial design can be identified by giving them the designation "Advertisement" or "Advertorial". The customer bears sole responsibility for the content and the legal admissibility of the text, the images and all other documents provided for publication. The customer is responsible for indemnifying B4bmedia.net from any and all third-party claims against the publisher which arise on the basis of the execution of the order, even when the order was to be cancelled. B4bmedia.net is not obligated to check orders and advertisements for their legal admissibility and possible infringement of third-party rights.
4. B4bmedia.net reserves the right to refuse advertising orders due to content, source or the technical format when the content violates laws or official regulations, third-party rights or offends accepted principles of morality, or the publication of the content cannot be reasonably expected of B4bmedia.net (withdrawal). In this case, B4bmedia.net also has the right to remove individual content or individual passages of the text from the advertisement without prior announcement or notification. In such a case, the customer cannot assert any claims against B4bmedia.net. Orders for supplements are binding for B4bmedia.net only after a specimen supplement has been submitted to and approved by B4bmedia.net. The customer assumes sole responsibility for all legal consequence resulting from the content of advertising orders or an advertising message and shall indemnify B4bmedia.net from any and all third-party claims, particularly in case of claims for damages or counterstatement. The customer shall also assume all costs incurred by B4bmedia.net for legal defense. B4bmedia.net is not obligated to check content, media, documents, research, data or advertisements for their legal admissibility and possible infringement of third-party rights.
5. The customer is responsible for the timely delivery of the advertisement. B4bmedia.net requests immediate replacement in case of obviously unsuitable or flawed advertisements. If defects in the data are not immediately recognizable but only become clear in the publishing process or any subsequent processing step, then the customer shall not be entitled to file any claims against B4bmedia.net based on unsatisfactory quality. The customer is responsible for all data provided to the publisher. The customer is furthermore liable for any damages caused by viruses or other impairments of any files transferred to B4bmedia.net.
6. In the event of a completely or partially ineligible, incorrect or incomplete publication of the advertisement (subject to the provision in section 5), the customer can claim a payment reduction or a clean replacement advertisement, but only to the extent to which the purpose of the advertisement has been adversely affected. If B4bmedia.net allows a reasonable grace period set for a clean replacement to elapse or if the replacement advertisement is not clean, then the customer has a right to payment reduction or cancellation of the order, provided that the purpose of the advertisement has been adversely affected. Claims for damages are limited to compensation of the damage up to the original amount paid for the advertisement. This does not apply to any intent or gross negligence on the part of B4bmedia.net. Liability for gross negligence is limited to compensation for foreseeable damage up to the original amount paid for the advertisement. Legal liability for personal injuries or liability based on German Product Liability Law remains unaffected by this provision. B4bmedia.net can claim contributory negligence. Further claims for damages, regardless of the reason, are excluded; also if the order was placed by phone. In the case of obvious defects, the right to compensation expires after 4 (four) weeks after the date of receiving the invoice (not applicable to non-obvious defects).
7. Until the set deadline, B4bmedia.net takes account of error corrections. If the customer does not exercise this right before the set deadline, the customer's approval is considered a given. If any faults in the advertisement cannot immediately be recognized and are only noticed during the printing or editing process, the advertiser has no claims against B4bmedia.net in the event of inadequate advertising quality. Claims against B4bmedia.net based on faulty reproduction or publishing are invalid if the customer notifies B4bmedia.net about them by phone.
8. If the website is temporarily unavailable at the publication date of the advertisement, the customer has no right to cancel advertising orders. If technical recovery of the website is impossible under any circumstances, the customer may withdraw from the contract or request that the advertisement be published after a replacement of the website has been set up.
9. If the customer has not prepaid, the invoice is sent immediately (up to 14 days) after publication of the advertisement. The invoice must be paid 10 days from the date of the invoice in accordance with the terms of payment unless a different period or prepayment has been agreed upon. Upon request, B4bmedia.net supplies a screenshot copy of the advertisement with the invoice. If copies of advertisements can no longer be obtained, B4bmedia.net will supply the customer with a legally binding certification of the publication and circulation of the advertisement.
10. In the event of default or deferment of payment, interest of 5 (five) percent above the effective base rate of the European Central Bank is charged (at least 6 percent in addition to collection costs). Default of payment gives B4bmedia.net the right to delay further execution of the current advertising order and, if applicable, demand payment for remaining advertisements in advance. If there is reasonable cause to doubt the customer's ability to pay, B4bmedia.net may also make the publication of further advertisements dependent on the payment of outstanding invoice amounts as well as on the prepayment of any further advertisements irrespective of originally stipulated terms of payment. The publisher can also demand security in case of doubt about the customer's ability to pay or in the event of default of payment. The costs customers incur for pre-judicial warnings amount to EUR 2.50 / USD 3.00 for the 2nd warning and EUR 6.00 / USD 7.00 for the 3rd.
11. The customer shall bear the costs of the production of requested and ordered PDF files and/or special reproduction requests. If the customer requests significant changes to the original advertising order, the incurring costs shall be borne by the customer.
12. The price list of B4bmedia.net effective at the time the order is placed applies. Price changes are only effective for orders confirmed by B4bmedia.net if they are made at least one month before the publication date of the advertising material. In the event of a price increase, the customer has the right to withdraw. The withdrawal period will expire 14 days after the day of the receipt of the notification about the price increase. Discounts are determined in accordance with the effective price list. Advertising agencies and other advertising intermediaries are obligated to adhere to the price list in their offers, contracts and billing with advertising customers. The agency discount granted by B4bmedia.net may not be passed on in whole or in part to customers of advertising agencies and other advertising intermediaries.
13. Copies and/or data (media) are only returned to the customer if requested or when there is a corresponding note in the order. The obligation to retain such data, copies or media ends three months after the expiry of the order.
14. B4bmedia.net is not obligated to publish any user data, particularly concerning data on impressions, click rates or any other statistical data related to their websites and corresponding social media channels. Data cleared for release will only be provided at the discretion of B4bmedia.net. This does not limit the right of the customer to inquire about statistical data before placing an advertising order.
15. The E-3 editorial team of B4bmedia.net may edit, supplement, rewrite or shorten submitted or proposed texts, reports, commentaries, interviews, images or other contributions at any time according to the generally applicable editorial guidelines of the E-3 editorial team. It is assumed that contributions are provided exclusively to B4bmedia.net and their publications; however, there is no obligation on B4bmedia.net's part to publish any submitted material without written agreement. Upon sending such material, the author/writer declares that they are fully entitled to all the copyrights, ancillary copyrights and other rights (personal rights or trademark rights) required for publication, including but not limited to the articles, reports, commentaries, interviews, images or other contributions provided.
16. Oral agreements always require written confirmation by B4bmedia.net to become effective. Confirmation by fax or e-mail is sufficient.
17. The General Terms and Conditions, the order confirmation and the respectively effective price list are authoritative for each other. The place of jurisdiction for all disputes arising under or in connection with contractual relationships subject to these General Terms and Conditions is the place of business of B4bmedia.net unless mandatory law provides otherwise. The law of the Federal Republic of Germany applies. If individual provisions of these General Terms and Conditions are invalid, this shall not affect the validity of other provisions and shall be amicably replaced by a provision most closely approximating the commercial aim and purpose of the invalid provision.
---
Data Protection & Privacy Policy
The EU General Data Protection Regulation (GDPR) has come into effect on 25 May 2018 and henceforth applies in all EU states. You can download the text of the regulation here.
In order to comply with the regulations, here is some very important information:
B4Bmedia.net AG collects, processes and uses personal data. This happens only with consent (for example: subscription registration) and for the purpose of the services offered by us and in accordance with the regulations of the GDPR. We naturally follow the data protection and civil law regulations.
Furthermore, the collection of personal data only affects the information which is necessary to carry out the respective service or information which you have made available to us voluntarily. The following is to be understood as personal data: Personal or factual information like name, e-mail, address, telephone number, date of birth, age, gender, social security number, credit card information, fingerprints, video recordings, photos, voice recordings and the like. Sensitive data such as health data can also be affected in some cases.
We may ask you to inform us of any changes to your data, since, in accordance with GDPR, you have the right to information about your stored personal data, its origin and recipients and the purpose of data processing and, of course, a right to deletion, correction, data transmission, opposition, restriction of processing and blocking of such data.
You may also revoke any consent to the processing of personal data at any time by directing your request for information, deletion, correction, opposition and/or data transmission directly to our business address.
If you are of the opinion that the processing of your personal data by us violates applicable data protection law, we ask you to contact us. You can also contact the responsible data protection authority directly. In our case, this is the Landesamt für Datenschutzaufsicht // P.O. Box 606, 91511 Ansbach / Promenade 27 (Schloss), 91522 Ansbach // Phone: 0981 53 – 1300 // E-Mail: [email protected] // Internet: http://www.lda.brandenburg.de
In order to protect your data in the best possible way, we naturally take appropriate precautions, such as contractual agreements with partner companies, firewalls, password protection and regular updates. We attach particular importance to protection against unauthorized, accidental or illegal access, processing, use of manipulation and loss.
Although we make every effort to ensure this, we can unfortunately never completely exclude the possibility that information that you send us via the Internet may be viewed and used by unauthorized parties. We therefore ask you to note that we assume no liability whatsoever for the disclosure of information due to errors in data transmission and/or unauthorized access by third parties not caused by us (e.g. hacker attacks on e-mail accounts, telephone or interception of faxes).
We also assure you that the data you make available to us will only be used for the purpose of fulfilling our offer or for other purposes covered by the provisions of the GDPR. An exception to this is the use of the data for statistical purposes, provided that the corresponding data has been made anonymous.
In order to make our offers available in the best possible way, it may happen that data has to be passed on to third parties (service providers who have to process our data – e.g. hosting providers) in order to fulfil our offers. However, this forwarding takes place exclusively within the scope of the GDPR and is secured accordingly.
We further ensure that personal data will only be transmitted to those countries which are recognised as such by the EU Commission with an adequate level of data protection and always ensure that the recipient has an appropriate level of data protection.
We always endeavor to detect any data leaks at an early stage and, if necessary, to report them immediately to you or to the relevant authority. Your data will not be kept longer than is necessary to fulfil our contractual/legal obligations.
The protection of your data is very important to us. We are happy to be reached under the contact details given in our imprint.
We thank you for your confidence and remain with kind regards,
B4Bmedia.net AG
---
Specific data protection information
The operator of this website automatically collects/stores information in its server log files which is transmitted to us by your browser. This includes browser type/version, the referrer URL, the operating system used, the host name of the accessing computer (IP address) and the time of the server request. We can only draw conclusions about your identity in exceptional cases that are absolutely required by law (exclusively within the legal framework). The data described are not merged with other data sources.
CloudFlare
To secure our website and to optimize our loading times, we use CloudFlare as CDN ("Content Delivery Network"). In order to be able to guarantee this service, all data and inquiries, which are called up from this web page and put to this web page, are led over the servers of Cloudflare and used there additionally for the production of statistics (Cloudflare offers no option without statistics). However, your data will usually be deleted after a short time (information from Cloudflare). Here you can find more information about the data collected by Cloudflare and about security and privacy at CloudFlare.
Comment Section
This website allows for comments to be posted below articles. In order to protect from malicious behaviour (e.g. spam), IP adresses, email adresses, the users name and the comment will be stored. Our editorial staff may use the information the user provides in order to contact the user regarding his/her comment for strictly editorial or moderating purposes. Any information provided by the user will not be stored or processed for advertising purposes. The user may request their data to be deleted at any time.
Contact Form
All data entered by you in the contact form will be transmitted by e-mail to the operator of this website and will not be stored on the server. Your request may therefore be stored in the back-end systems used (mailbox, customer management system) if this is necessary to process your request. Third parties have no access to the data mentioned. Your contact data will also not be used or passed on for marketing purposes.
Google Analytics
This website uses Google Analytics, a web analytics service of Google Inc. ("Google"). Google Analytics uses "cookies", which are text files placed on your computer, to help the website analyze how users use the site. The information generated by the cookie about your use of this website (your IP address is anonymised) is transmitted to a Google server in the USA and stored there. Google will use this information for the purpose of evaluating your use of the website, compiling reports on website activity for website operators and providing other services relating to website activity and internet usage. Google may also transfer this information to third parties if this is required by law or if third parties process this data on behalf of Google. You may refuse the use of cookies by selecting the appropriate settings on your browser; however, please note that if you do this you may not be able to use the full functionality of this website. By using this website, you consent to the processing of data about you by Google in the manner and for the purposes set out above.
Google Adsense
Google Adsense, a web ad service of Google Inc. ("Google"), places advertisements (text ads, banners etc.) on this website. Your browser may store a cookie sent by Google Inc. or third parties. The information stored in the cookie can be recorded, collected and evaluated by Google Inc. or third parties. In addition, Google Adsense also uses "WebBeacons" (small invisible graphics) to collect information, which can be used to record, collect and evaluate simple actions such as visitor traffic on the website. The information generated by the cookie and/or web beacon about your use of this website is transmitted to and stored by Google on servers in the United States. Google uses the information obtained in this way to evaluate your usage behavior with regard to AdSense ads. Google may also transfer this information to third parties if this is required by law or if third parties process this data on behalf of Google. Google will not associate your IP address with other data stored by Google. You can prevent cookies from being stored on your hard drive and Web Beacons from being displayed. To do this, you must select "do not accept cookies" in your browser settings (in Internet Explorer under "Tools / Internet Options / Privacy / Settings", in Firefox under "Tools / Settings / Privacy / Cookies").
AdRotate Pro

This site uses the plug-in AdRotate to show and track adverts. Contact: AJDG Solutions, Arnan de Gans, [email protected], Terms of service and privacy policy: https://ajdg.solutions/terms-of-service-and-privacy-policy/
SendPulse Push-Notifications
If you subscribe to "push notifications" via our website (meaning messages that you get whether you are on our website or not), you will receive notifications for new posts and important information.
You can disable these notifications at any time through the browser used for activation.
You can find out how this works here: https://sendpulse.com/knowledge-base/push-notifications/enable-disable-push-notifications-google-chrome or via Google.
The privacy policy of SendPulse can be viewed here: https://sendpulse.com/legal/pp
Purpose of the data processing and legal basis as well as legitimate interests, duration of storage
Data category: Push Notification Identifier
Intended: Delivery of push messages on request of the user
Legal basis: Art. 6 Abs. 1 b) GDPR
Possible legitimate interest: Information about new blog articles and news
Storage time: Duration of the use of the push service
Further information
Your trust is important to us. If you have any questions regarding the processing of your personal data or this data protection declaration, we will be happy to answer them at any time. Please contact us directly via the contact form on this page or via the contact information given in the imprint.
Cookies
Cookies are small files that allow this website to store specific information related to the user on the visitor's computer while visiting our website. Cookies help us to determine the frequency of use and the number of users of our Internet pages and to make our offers convenient and efficient for you. We use session cookies, which are only stored temporarily for the duration of your use of our website, and permanent cookies to record information about visitors who repeatedly access our website. The purpose of the use of these cookies is to provide optimal user guidance, to recognize visitors and to present as attractive a website and interesting content as possible in the event of repeated use. The content of a permanent cookie is limited to an identification number. Name, IP address etc. are not stored. An individual profile of your usage behavior does not take place. Our offers can also be used without cookies. You can disable cookies in your browser, restrict them to certain websites or set your web browser (Chrome, IE, Firefox,…) to notify you when a cookie is sent. You can also delete cookies from your PC's hard drive at any time. Please note, however, that in this case you must expect a limited display of the page and limited user guidance.
Privacy policy for the use of the Amazon affiliate program
This site is a Amazon EU S.à r.l. Affiliate Program participant and partner of the Affiliate Program, which is designed to provide features for sites that may earn reimbursement by placing advertisements and links to amazon.com. Amazon uses cookies to trace the origin of orders. Among other things, Amazon can recognize that you have clicked the partner link on this website. For more information on Amazon's use of data, please see Amazon's Privacy Policy.
You will not incur any additional costs.
Disclaimer of Liability
This disclaimer is to be regarded as part of the internet publication which you were referred from (www.e3zine.com). If sections or individual terms of this statement are not compliant with legal requirements or are incorrect, the content or validity of the other parts remain intact.
Liability for the contents of this website
The contents of these pages have been prepared with the greatest care. However, we cannot assume any liability for the correctness, completeness and topicality of the contents.
Liability for links to third-party websites
Our website contains links to external websites of third parties over whose contents we have no influence. Therefore, we cannot assume any liability for these external contents. The respective provider or operator of the pages is always responsible for the contents of the linked pages. The linked pages were checked for possible legal infringements at the time of linking. Illegal contents were not recognizable at the time of linking. However, permanent monitoring of the content of the linked pages is unreasonable without concrete evidence of a violation of the law. If we become aware of any infringements, we will remove such links immediately. We do not assume liability for actions taken or purchases made on third-party websites.
Copyright
The operators of this website always endeavor to respect the copyrights of others or to make use of self-created or licence-free works. The contents and works created by the site operators on this website are subject to copyright. Contributions of third parties are marked as such. Duplication, editing, distribution and any kind of use outside the limits of copyright law require the written consent of the respective author or creator. Downloads and copies of this site are only permitted for private, non-commercial use.
Privacy policy for the use of YouTube
Functions of the YouTube service are implemented on our website. These functions are offered by YouTube, LLC, 901 Cherry Ave., San Bruno, CA 94066, USA. The integrated videos store cookies on the user's computer when the website is accessed. If you have deactivated the setting of cookies for the Google advertising program, you will not have to reckon with such cookies when you access YouTube videos. YouTube also stores non-personal usage information in other cookies. If you want to prevent this, you must block this in the browser.
Personal information
Personal data that you transmit electronically on this website, such as your name, e-mail address, address or other personal data, will only be used by us for the purpose stated in each case, will be kept safe and will not be passed on to third parties. The provider automatically collects and stores information on the web server such as browser used, operating system, referring site, IP address, time of access, etc. This data cannot be assigned to any particular person without checking other data sources and we do not evaluate this data further as long as there is no illegal use of our website.
Form data and comments
When website visitors leave comments or form entries, the data entered and their IP addresses are stored. This is done for safety, e.g. if someone writes illegal contents (insults, left- or right-extreme propaganda, hate postings etc.). In these cases, we are interested in the identity of the author. Furthermore, if we deem a comment to be spam or the content to be illegal as outlined above, we will delete it without further notice.
Right to Information and Deletion
You have the right to be informed at any time about the data stored regarding your person, its origin and recipient as well as the purpose of storage. Furthermore, you have the right to have any data deleted in accordance with the guidelines of the EU General Data Protection Regulation.