A personnel department can do much more than just administrative work. However, HR specialists often face many administrative issues eating up their time.
This whitepaper provides an overview of the most common time-wasters in HR processes. It also shows different possibilities to escape this vicious circle by changing daily routines.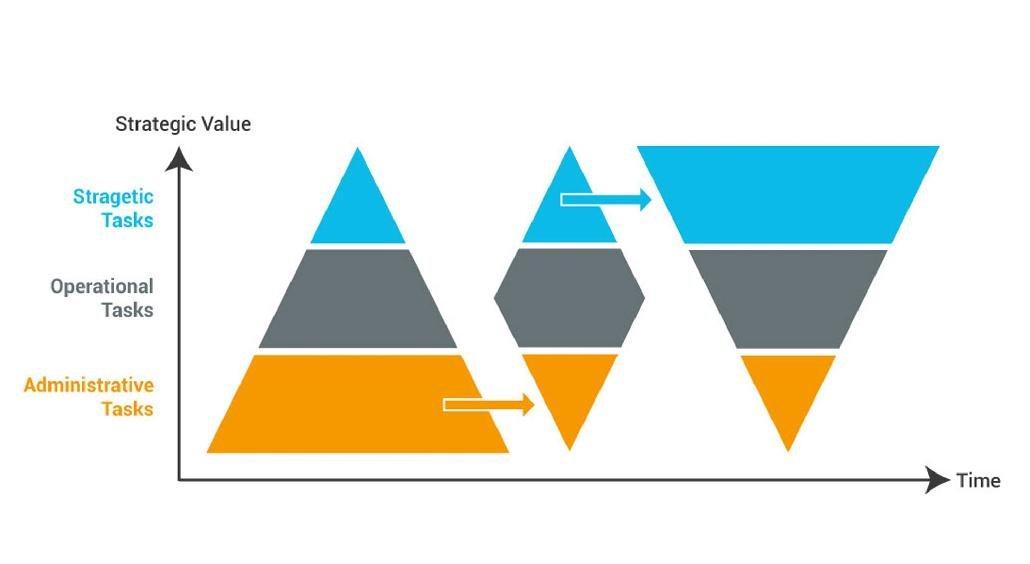 Time-Waster #1: Unstructured and dispersed master data
New IT tools have been introduced in many HR departments over the past few years. There is a tool for recruiting processes, one for target agreements, one for onboarding, and so on. At the same time, there are existing tools for payroll, time management and reporting. Many of these applications are best-of-breed-solutions which exactly fit the requirements. However, they are not integrated into the main system due to a lack of time and technology. Unfortunately, it is an usual procedure in many companies that a single personnel master record is created, changed and deleted in more than 10 different systems.
This causes several problems:
High effort to enter data
Missing changes lead to inconsistent data
Obsolete data due to forgotten deletion
Incorrect master records by incorrect input in different systems
Complicated reporting across system boundaries
As a result, employees are unmotivated and unsatisfied and need to do unnecessary additional work. This leads to higher process costs, licensing of different software systems and extra costs for said additional work (e.g. for reporting tools).
The solution is both simple and complicated. This time-waster can be eliminated with the following approach: Master data maintenance must be done on one central system to avoid redundancies. At the same time, the systems need to be connected through interfaces in order to enable joint use of the master data.
A best practice approach is for companies to lay the foundation for robust processes and future analyses, which reduces costs for entering data and correcting errors.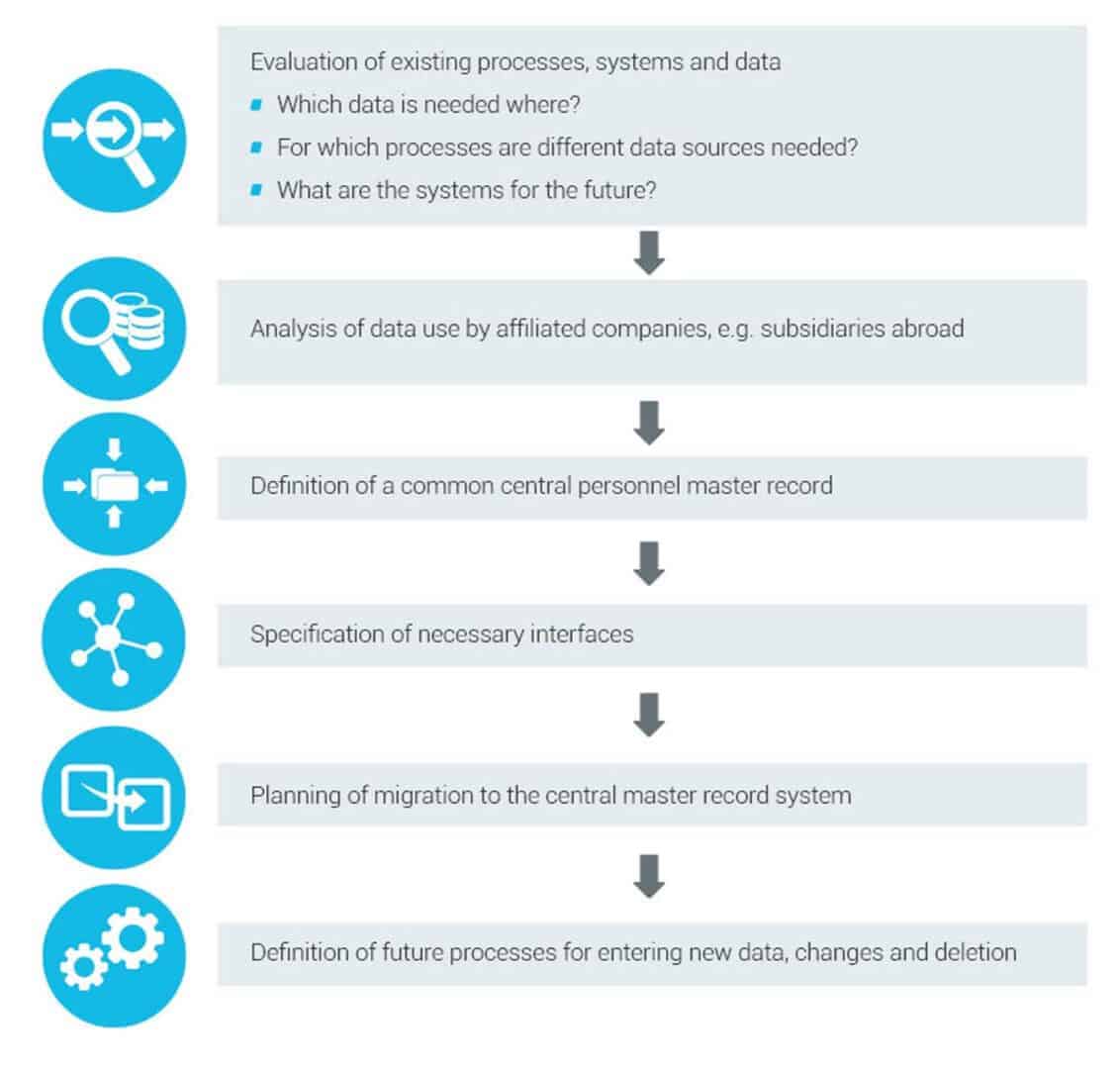 Time-Waster #2: Media breaks
One of the major problems resulting from transfer of information is the so-called media discontinuity. Typing errors happen quickly and make manual data entry a risk. In addition, it wastes a lot of money and resources. At the same time, there is an overall slowdown, especially when the employee's inbox is constantly crowded, and documents cannot be processed immediately. Unnecessarily long processing times and outdated information are the consequence.
A large number of master data in the personnel department is often still available in paper form. At the same time, the HR department shares many processes with employees and managers. In many cases the list of forms and documents is quite detailed and long.
Here is only an excerpt of paper-based processes and the potential media breaks:
Leave requests: All digital forms can be transferred to the time management system.
Application documents: Transfer from e-mail inbox to internal mail. Applicant portals with integration in applicant databases.
Change of bank details: All forms can be transferred to master record data.
Create job references: Valuations can be transferred to work certificates.
Travel expense report: Expense receipts can be transferred to travel expense reports.
The solution for these media breaks depends on the respective process but can be summarized as follows: One single and common platform for all associates is the major goal. Both specialists and managers need to have access to these input screens and all associates can work with the same system and use the same data – a very important fact.
For leave requests: Time management systems are connected so that digital forms can be transferred directly to this system.
For application documents: Applicant portals with integration in applicant databases.
For master data changes: Digital forms for master record entry are connected directly to the system.
For generating documents: Tools for document generation based on existing master records.
For travel expense reports: Input screens on mobile devices for travelling staff.
Two things are the central issues: making processes more efficient and directly involving stakeholders in the digital process. ESS/MSS solutions and portal systems are the ideal tools to address these issues.
Time-Waster #3: Reporting
Business divisions and management need reliable and clear HR analyses for decision-making. From the overall list of employees to annual reports – the HR department supplies analyses and evaluations of the company's most important capital, its employees. For some reports, a whole armada of different HR staff spends weeks selecting, processing and aggregating data.
Why does it take so long?
Scattered master data and availability of many data sources
Incomplete and unclear master records due to many changes that have not been included consistently
'Private' data from subsidiaries or single divisions
Missing data that has been forgotten or not entered
This leads to huge manual workloads and missing transparency. Effective and efficient reporting needs two essential things: Robust and complete master records and the mentality 'HR system first'.
Robust and complete master records are the key. The old saying in the IT sector 'Garbage in – Garbage out' is still valid. But when do we have complete master records? Only when the generated data is consistently being stored. For good results, processes must be tackled with the support of the system. The annual performance review is a good example, pinpointing the problem: Many companies do not have a single application for reviews but use different tools – generated data disappears into the personnel file in paper form. This information is without benefits for all involved and does not offer new insights.
"One solution is to go for 'HR system first' instead of 'take the folder off the shelf'."
But how can this data be used or evaluated in the future? Performance reviews need to be directly entered in a system so that results and data can be used immediately. A structured approach makes it easier to carry out analyses of performance because personal skills and target evaluations are clearly visible in the system. Further measures for personnel development can be evaluated. Talent pools can be created with the data used. The key is to have structured processes based on a consistent master data.
One solution is to go for 'HR system first' instead of 'take the folder off the shelf'. It is a daily routine to take folders off the shelf to get the information needed at the moment. It is a matter of trust: with the help of trainings, employees build confidence in the system. And it goes without saying that a reliable system needs correct data. A new mentality then comes naturally. As part of change management measures, it is important that this will be taken into account when introducing new systems.
Time-Waster #4: Time Management
Different issues apply when data is entered in the Time Management module. It is crucial for many companies and for HR. As the basis for correct payroll accounting, time management is the central element. While Payroll accounting is subject to a fixed legal framework, the possibilities in time management are manifold and are handled differently by each company.
Time stamps (coming and going) of employees are recorded for processing. Correctly processed hours of attendance and the calculation of allowances and supplements are essential parts of each payroll. The entire process from time recording to payroll accounting should be completed without interruptions. Time recording data (time clocks and similar systems can be used) is transferred via an interface into the payroll system.
The biggest time-wasters are:
Subsequent corrections or manual adjustments (recorded times, overtime etc.)
Reporting for managers
Complex approval processes
All these points have enormous potential to save time and money:
There are easy-to-access solutions for employees to do manual recording or time corrections.
Public PCs are a good solution for providing employees with access to the system. Employees can also access the system with their personal smart phones.
With their access to the time management system, managers can perform individual analyses.
The way of handling complicated approval processes has to be changed. With every signature, those responsible should ask themselves the question: Do I really have to check and sign off on that? Obsolete processes can be redefined. Defined approval processes and mobile devices can make life easier for managers.
The following therefore also applies to time management: It is important to avoid media disruptions, integrate users into the process and to connect systems.
Time-Waster #5: Unclear processes
Searching and collecting information within the company costs a lot of money: on average, 19% of employee's working hours is spent on that. Who is the right contact person? Where can I find that form? How can I get started on the process? Every single question makes staff insecure and frustrated, costing a lot of money and time.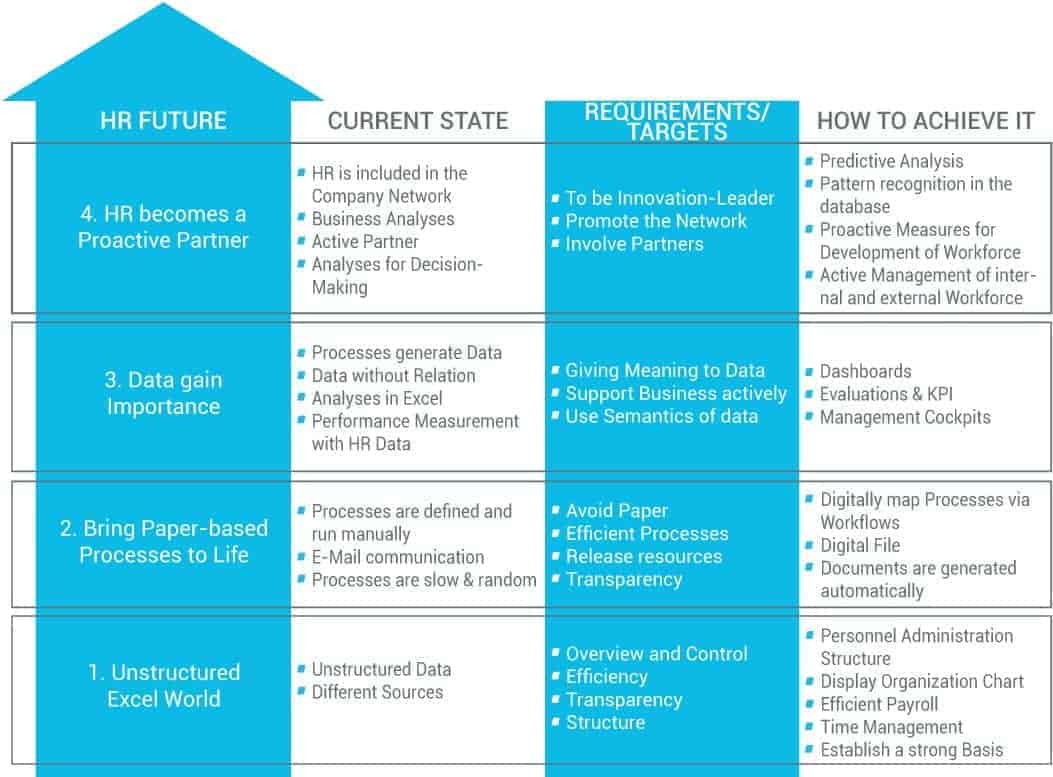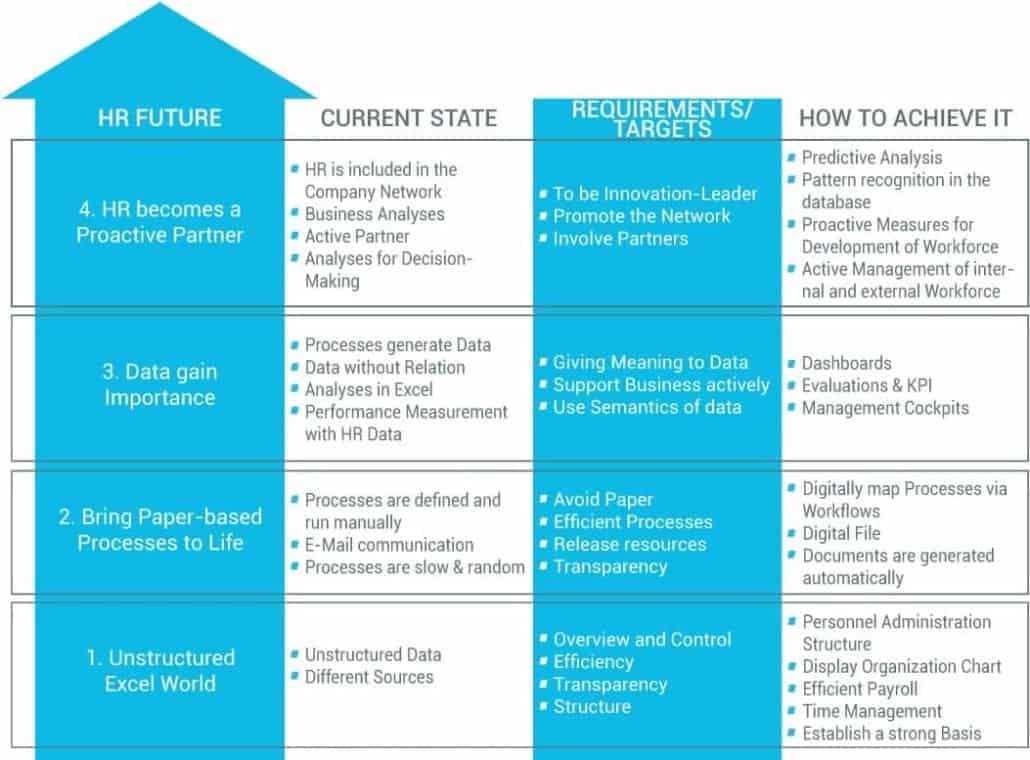 Conclusion
Reliable and complete master data is the basis for efficient processes. Transparency can be created and maintenance processes simplified by connecting and consolidating HR systems.
Media breaks are time-consuming and expensive. There is potential in most of HR processes: media breaks can be minimized by integrating all involved parties. The current technical possibilities for networking and mobility must be actively used for this purpose.
Analyses can be generated at any time. This creates the necessary transparency. Analyses and reports add value to departments and highlight the strategic value of HR for the company.
Individual sub-processes like time management processes are important and need to be considered. It is precisely here that processes, systems and people need to be intelligently networked.