As we move into 2021, we can reflect on the year 2020, how it has irreversibly changed the commercial world and what it means for businesses as we eventually emerge into a post-COVID and newly vaccinated world.
It is no understatement to say that COVID-19 has changed everything, and business was no exception. Some companies saw unprecedented growth – especially if we think about IT companies, online retail, supermarkets, and the whole supply chain that supports these businesses. Others struggled to stay afloat because they were directly affected by government lockdowns, such as in the hospitality or brick-and-mortar retail sectors. Remote workers were no longer a minority, making secure access to business applications from anywhere in the world a necessity.
A more cost-effective business model with improved access, security, and the ability to be flexible to growing or fluctuating business demands has never been more important. Cloud computing is the most obvious answer to these requirements. Let's discuss the top reasons for businesses to move from on-premises SAP systems to S/4 Hana cloud.
Reduced costs
The current economic situation dictates keeping costs down and being confident about future ongoing costs. With a cloud solution, there is no need to purchase hardware or software up front, and there are no more costs for company staff operating and maintaining data centers. In addition, updates and maintenance operations are supported by the cloud service provider.
Cloud computing from SAP is a great answer for businesses where the main costs move from CAPEX (Capital Expenditure) to OPEX (Operating Expenditure) using a subscription model. For accounting purposes, OPEX is an expense that is fully tax-deductible in the year it is made and is subtracted from your revenue when calculating profits or losses. This is an attractive option if the company has limited cash flow because it makes it easier to keep your financial forecasts stable and predictable.
Flexibility to adapt to fluctuating business demands
2020 taught us that the only certainty is uncertainty. Cloud-based services are ideal in an environment in which companies need to remain agile. Additional resources such as extra storage capacity or processors can be added to the S/4 Hana cloud environment with the ability to support peaks or troughs in financial transactions as they arise. This means that extra functionality can be deployed using additional applications as and when required. The OPEX approach to IT expenditure also gives businesses the agility and flexibility they need to keep up with ever changing business pressures.
Improved security and access
As working from home has become normalized, it is now an imperative that employees are able to access data from any device and from anywhere in the world. S/4 Hana cloud enables users to access their data from desktops, laptops, and phones. Your cloud provider will take care of every aspect of security, ranging from physical security as well as network security to backup and recovery with the relevant compliance, confidentially, and integration so there is no need for your own staff to fulfil this role. Another advantage is that you can move your SAP apps which currently reside on the ERP platform into the cloud. This enables partners to access your apps as external users without giving them access to your ERP system.
Reducing risks by keeping the ERP clean
Moving to a cloud environment enables businesses to introduce complex processes whilst keeping the ERP core clean. This means that future upgrades are simpler and risks can be reduced as you are able to upgrade ERP and cloud independently from each other. Cloud provides a consistent solution that provides the same look and feel but allows the system to plug into both SAP and non-SAP environments without the infrastructure costs of an on-premises solution.
There are 4 possible deployment methods for Vistex with S/4 Hana. These can be seen in the following table: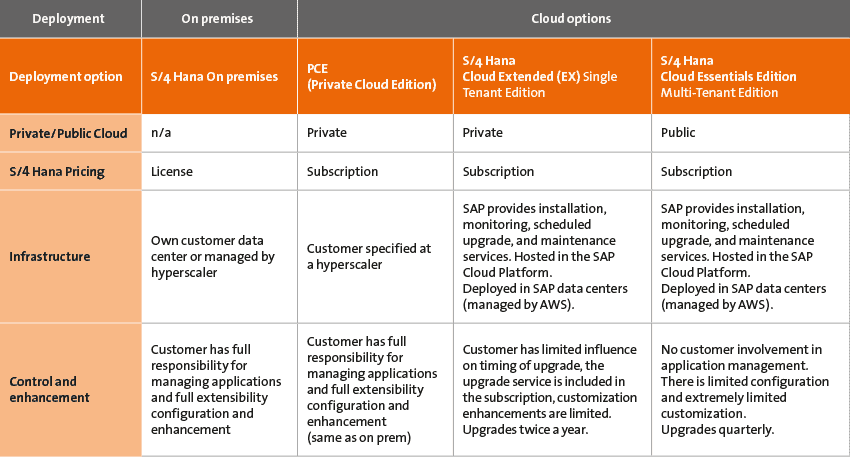 These four key drivers are important factors to consider when your company is shaping its business for 2021. Securing the right amount of flexibility, cost reduction, accessibility, and security can help your business to better overcome the challenges of fast-changing market needs in the upcoming years. It's important to start identifying your business priorities now, allowing them to drive the decision you make regarding an S/4 Hana cloud transformation. By conducting a comprehensive assessment of your organizational priorities and how well the available ERP solutions can support them now and in the long run, you can make the best decision when upgrading your current software landscape.