Cloud file storage and data management services are fundamental cornerstones to implement a SAP Hybrid Cloud computing product in digitalization. SAP customers benefit from a holistic NetApp data management architecture.
We can certainly describe it as a milestone: namely the announcement of general availability (GA) of Azure NetApp files at the Amsterdam NetApp summit at the end of May. Globally, the new offering is the first Bare Metal Cloud file storage and data management service – an exclusive Microsoft IaaS and PaaS Cloud offering, Azure-native and based on NetApp technologies and physical NetApp hardware or based on the NetApp Ontap data management software.
Companies can migrate their enterprise workloads into Azure Cloud and operate them there. This is also applicable to databases, SAP applications or high-performance computing applications. And this is without any changes. This is made possible thanks to intensive development work and investments from Microsoft and NetApp, who have been working closely together for more than 20 years.
Preview Mode customers, some of them from Fortune 100 companies, say the following about the Cloud usage of Azure NetApp files: expectations have been exceeded because we see five times better performance compared to on-premises deployment. Similarly, many early adopters are impressed with options for massive capacity scale-up and scale-down and variable capacity performance usage options in Public Cloud-only deployment.
Azure NetApp Files will certainly be a trigger for many companies from the SAP community to shift more SAP workloads into the Public Cloud or to promote Hybrid Multicloud use cases – including the migration of complete SAP infrastructure or SAP data centers into the Cloud, Microsoft Azure in this case. By using Azure NetApp Files, file system sizes of up to 100 TB can be deployed in an Azure-NetApp file share. Hana-SAP certification of Azure NetApp Files is underway. Certification of AnyDB is already available.
Proven functional advantages
NetApp aligned itself many years ago to supplement gold standard solutions for the on-premises world with solutions for the Cloud and to provide mixed operating models or concepts of Hybrid Multicloud computing. And to act as Hybrid Cloud leader.
Starting point: proven NetApp functional advantages from which companies extract financial benefits globally. For example, this includes compression, data deduplication, cloning or integrated data back-up with continuous availability/high availability, including storage-based back-up, high-end performance as well as maximum scaling with the storage operating system Clustered Data Ontap and SaaS variant Cloud Volumes Ontap, which is also part of the Azure portfolio and can also be used.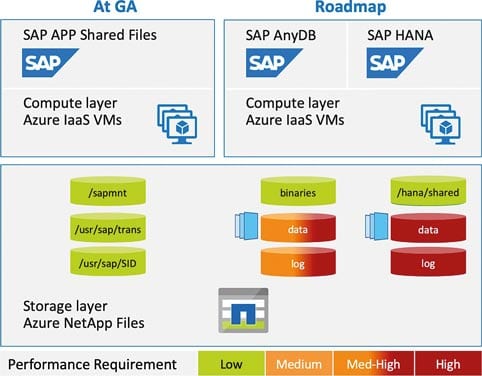 The technical basis for this is the Data Fabric platform as well as the bundling of data services, which ensure an end-to-end connection in on-premises as well as Cloud environments with comprehensive functions.
Data management in the connected environments is significantly simplified and makes the process completely transparent. With an effect that is crucial in the digital age: transformation projects – the stringent use of digital Core SAP S/4 Hana or even C/4 Hana or the pushing of DevOps models – can be implemented quickly, easily or within a short implementation cycle.
Uniform code base
Practically identical Ontap with the same code base is used for NetApp Cloud solutions, Cloud Volumes Ontap as well as Azure NetApp Files and this code base can also be used on-prem as a core element for integrated data management.
There is also a modified version for Cloud consumers. Thus customers are in a position to access "hardened" NFS that is specially designed for SAP and to use Ontap features such as SnapShot and Cloning. Backups for restore/recovery as well as SAP clone systems can be created with the touch of a button. Or users have the option of shifting data into object stores for long-term archiving.
NetApp has used recent developments to ensure that copies of data are implemented as well as secure and efficient data migration and required data synchronization in combination with hybrid Multi-SAP Cloud computing.
SAP customers, who are using data management/storage systems from other providers in their SAP on-premises environment and prefer NetApp Cloud Volumes Ontap on Azure or Azure NetApp Files, are supported with proven NetApp transfer solutions/migration services.
This is the second article of a series. If you want to read the first one, click here. If you want to read the next one, click here.