Azure usage is increasing in general and in particular among SAP users. There is a requirement-based IaaS offering of Public Cloud services for SAP deployment.
Festo is doing it. The GEA Group and Daimler are also on board. More and more companies from different industries of the SAP community in German-speaking countries and worldwide are using Infrastructure as a Service (IaaS) offered by Microsoft in Azure for SAP Hana. These companies are also using other Azure services that can be integrated in SAP.
This was highlighted by the result of an investment survey that was conducted for German-speaking SAP user group DSAG at the beginning of this year. The participants were asked about their preferred choice of service providers for Cloud computing. The majority of the survey participants mentioned Microsoft Azure as the preferred solution. And these numbers were published during the customer event Sapphire Now 2019 at the beginning of May: more than 90 percent of Fortune 500 companies are now using Microsoft Azure and SAP.
The objective or even the guiding principle of Microsoft is nothing more and nothing less than to provide the best available infrastructure for SAP Hana or SAP Hana-based applications and to provide the best possible support to companies for their digital transformation projects or ERP modernization attempts.
Customer-oriented community of values
SAP and Microsoft are working closely for Azure with proven methodology to achieve this objective and provide a best-of-class solution portfolio. SAP and Microsoft have more than 25 years of close collaboration in this regard.
The customer-oriented community of values by Microsoft and SAP expresses itself in multiple ways. For example, Microsoft has the most Hana-certified IaaS service offerings, namely 25 VM configurations as well as special Bare Metal instances, from 192 GB to 24 TB in scale-up and up to 60 TB in scale-out.
In this context, Microsoft provides different types of Azure virtual machines as well as dedicated Hana Large Instances, optimized for different requirements (use cases) for SAP deployment. Microsoft supports customers and partners with reference architectures to optimally fulfill customer specifications of SLAs and requirements with reference to high-availability and disaster recovery.
In addition to the certification of Hana-based SAP systems in conjunction with Linux operating systems, numerous combinations with traditional databases (AnyDB) are also provided in combination with Windows Server SLES and other Linux derivatives.
New addition: Azure NetApp Files (ANF), globally the first Bare Metal Cloud file storage and data management service – an exclusive Microsoft IaaS and PaaS Cloud offering, Azure-native and based on NetApp technologies and physical NetApp hardware or based on the data NetApp Ontap data management software. Overall, Microsoft has the most comprehensive and globally-distributed regional network with SAP-certified infrastructure. It covered 54 regions as of May. This also includes 26 Hana-certified systems. 8 additional regions are being planned by the end of this year.
Building on achievements
Microsoft and SAP are constantly striving to improve SAP-on-Azure deployments and to optimize them further. The fact of the matter is that Microsoft has invested more than a billion US dollars in a few months to expand Azure and uses approximately the same amount for (Cloud) Security. These huge investments can benefit each SAP-on-Azure customer.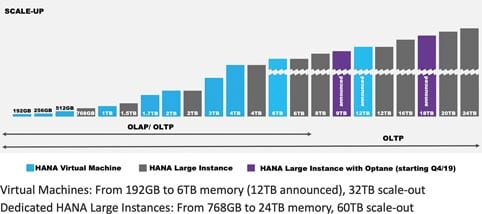 A new innovation: simplifying the integration of Azure Active Directory and SAP Cloud Platform (SCP). This provides secure and comfortable access to SAP services and applications. This was recently announced at the Sapphire Conference in Orlando along with a series of additional innovations for SAP on Azure. These innovations include extending the Azure portfolio with larger virtual machines, the availability of SAP Data Custodian in Microsoft Azure or even supporting Azure Backup for Hana.
The momentum to implement business-critical SAP Workloads in Azure for SAP on Azure is huge and is constantly increasing. With Azure services, SAP users now have a tool to implement their digital transformation with SAP in a quick, secure, efficient, and cost-effective way.
Microsoft also offers value add to SAP customers by integrating additional Azure services and Microsoft solutions such as Office365, SharePoint or Power BI. SAP customers are supported either directly by Microsoft or by certified Microsoft Cloud Service Providers (CSPs) when it comes to the planning and implementation of their Azure deployments.
This is the third article of a series. If you want to read the first one, click here. If you want to read the next one, click here.