A lot has changed since SAP Hana launched in 2011. The digital revolution has brought an era of unprecedented customer expectations, and organisations must rise to meet them. Our latest research, 'The Centiq State of SAP Hana Report 2018' reflects this demand.
The report represents the largest UK-based independent survey into Hana usage to date, with 250 respondents across eight industry sectors and seven job titles. It explores how organisations are using Hana today.
Hana is delivering Return on Investment in 2018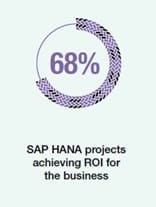 When Hana was born, many initially struggled to achieve measurable ROI. However, in 2018 this is no longer the case. Our report reveals 68% of Hana projects are now achieving ROI for the business.
This reflects the organisational demand for a platform enabling the agility, responsiveness and customer insight to compete in the digital age.
Most SAP Hana deployments are in the Public Cloud
Interestingly, organisations are mostly achieving ROI through Cloud-based IT services, with the majority of Hana deployments being hosted in the Public Cloud. In fact, 88% of production Hana instances are in the Public Cloud versus 79% of non-production data.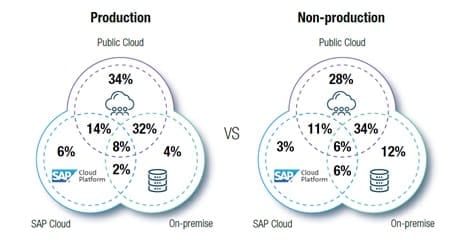 75% of SAP Hana projects are on time, on budget or both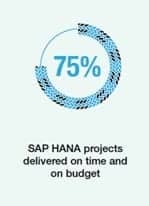 In our last report, 'Debunking the three myths of Hana', the first 'myth' suggested that Hana deployments are often late and over budget. The respondents dispelled this myth, citing it as being mainly on time and on budget. This year, our research tells the same story, with 75% of Hana projects reported to be on time, on budget or both. However, our research delves deeper than this. Organisations with 10,000 employees or more are less likely to deploy their SAP Hana projects on time and on budget than smaller organisations.
Yesterday's skills are less relevant today
The evolving digital landscape has brought with it many changes, including the Hana skills valued by organisations. 94% of respondents cite skills as a challenge, and these skills are increasingly dependent on business transformation initiatives. The new reality is that Hana is a business issue and, as a result, Hana projects are increasingly led by strategy teams rather than technical teams internally.
Data integration is a key driver of SAP Hana investment
Our research reveals 60% of respondents are being driven towards Hana for data integration and platform consolidation initiatives. This indicates a significant number of customers are moving their data into Hana for real-time data integration, accelerating towards their Digital Transformation. This trend is set to continue over the next 12 months, with 81% of respondents indicating the benefits from Hana will positively transform business processes and enhanced customer experiences.
91% of respondents are engaging external expertise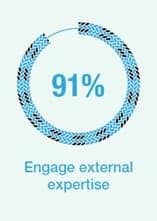 Whilst our study clearly affirms Hana's capability to drive digital transformation, implementing it to make this a reality is not quite so simple. We are seeing an increase in the use of automation tooling and project templates on cloud to help implement data integration projects faster and more effectively. This does not need to be a slog for the in-house IT team. In fact, 91% of respondents said they are engaging external expertise in 2018, demonstrating a need for independent organisations, like Centiq, who truly understand the full scope of Hana.
Strategically sound
Despite a slow start, Hana's time has come. It is no longer a technology of the future, but a game-changer for most industries today. Our research validates Hana as a strategic, innovative and forward-thinking technology which is delivering value to those organisations pursuing Digital Transformation.