Three pillars – security, multicloud and automation (including provided solutions) - play the most important role in the Cisco data center architecture stack for supporting multiple Hybrid Cloud deployment. They are not isolated but are connected to each other or build bridges.
Digitalization means there is increased need to work with massive data volumes. Companies have to adapt to this situation. And not only that. As an example, experiments by Gartner predict that infrastructures and IT operation must not only be optimized on a continuous basis, but efforts should be made to keep costs under control.
Optimum between on-premises and Cloud
This is also applicable for multiple Hybrid Cloud computing where it is important to find an optimal solution between on-premises and Cloud use – between core on-prem workloads and Cloud services.
It has to be assumed that companies will increasingly use multiple Cloud services, whether it is IaaS, SaaS, PaaS or DBaaS solutions. It is very clear that off-prem workloads, like AI, analytics or IoT, will show an increasing trend. As a result, data centers no longer represent fixed sites or locations where data is generated, processed or used.
Cisco addresses this paradigm change and has developed a strategic perspective: solutions for a holistic IT infrastructure based on modern technologies; support of IT infrastructures through automation solutions to use IT as a strategic business enabler; and the provision of integrated security solutions to protect enterprise applications and data in an effective manner.
Support for SAP modernization
Cisco is one of the preferred partners for SAP and its customers – for NetWeaver and in the Hana-based SAP world – with multiple SAP certifications. Cisco's objective is to provide support to the user companies for accelerated modernization of their SAP deployment.
In this regard, Cisco focuses on providing an integrated approach for operating concepts in the digitalization age to customers along with new business models, data sources or analytics tools.
Data Center Stack
The Cisco data center stack is based on the three strategic pillars mentioned above: Security, Multicloud and multiple infrastructure automation layers. From a solutions perspective, AppDynamics (AppD), CloudCenter, Cisco Container Platform and Cisco Workload Optimization Manager (WOM) provide a bridge across the Public Cloud and on-premises environments. ACI, NAE and Intersight support policy-supported automation and consistency.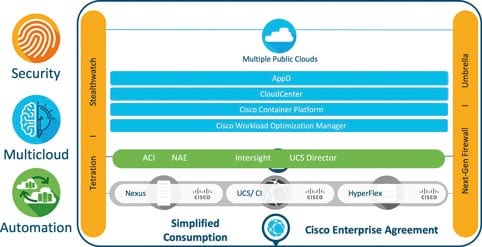 Cisco Nexus, UCS-Server, HyperFlex HCI and convergent infrastructure solutions are also part of the data center stack. Just like FlexPod All-Flash Solutions for SAP with integrated NetApp systems. And Cisco solutions, such as Tetration, Stealthwatch, Umbrella and Next Generation Firewall, ensure security across on-premises and Public Cloud environments.
This is the seventh article of a series. If you want to read the first one, click here. If you want to read the next one, click here.