Changed business requirements are the triggers for companies to outsource SAP application use or operation in the Cloud. SAP on Microsoft Azure and Accenture provides infrastructure services for SAP Hybrid Cloud deployment, even for large SAP Enterprise workloads.
Accenture focuses on the fact that companies require an efficient and effective way to transform and modernize their SAP landscape. The background from the perspective of the long-term strategic SAP partner: changed business requirements in the digitalization era with the need to operate SAP solutions in the Cloud.
And to exploit the advantages offered by the Cloud. Namely cost reductions, increased flexibility and practically limitless scaling options, but also optimized and improved analytics options as well as access to Internet of Things resources/capacities. Furthermore, there is the potential to optimize the agility and flexibility of SAP systems.
And here the preference is a Cloud platform that offers superior security standards and compliance guidelines. It must be ensured from the beginning that large and very large SAP Hana workloads can be handled in a Cloud so that even large enterprises with their special requirements such as SAP S/4 operation can benefit from Hybrid Cloud use and meet their business requirements.
Comprehensive SAP and Microsoft Expertise
The experienced and leading SAP and Microsoft solution provider Accenture feels it is well equipped to support companies with digitalization, including Hybrid Cloud transformation. This is also confirmed by the fact that multitenant Hybrid Cloud environments were certified by SAP and Cloud experience from a Private Cloud has been integrated into Accenture services and solutions.
For example, integrated into S/4 Hana Cloud Solution, with short "Infrastructure-Plan-Build-and-Implementation Time" by using Microsoft Azure, designed for Large Enterprise Workloads and the use of Azure offering Hana Large Instances (up to 24 TB in scale-up and up to 60 TB in scale-out).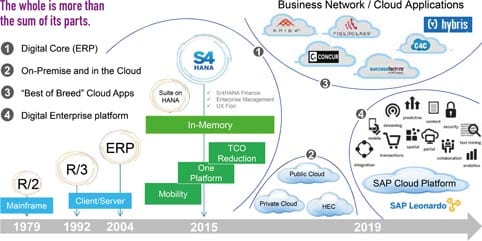 They enable Public Cloud deployment or management of high-volume SAP workloads on dedicated Bare Metal hardware (Compute and NetApp Storage, Azure NetApp Files), including operating system platform and SAP Application Layer, hosted in native Azure VMs. 18 different SAP topologies are supported here.
In this context, it is possible to provide convergent infrastructures for SAP workloads with high performance in Azure and the help of deployments (configurations) automated with the one-touch principle. And this is based on gold standard infrastructures for Hana and Hana-based application solutions.
Accenture has identified the following as business advantages due to Infrastructure-SAP-On-Microsoft-Azure deployment (and Hana Cloud Solution): a speed-to-market, increased RPO/RTO performance, a reduction of backup times including optimization in terms of disaster recovery and business continuity, capex and opex minimization, comprehensive data provisions according to industry compliance and improved SLAs through proactive maintenance.
This is the last article of a series. If you want to read the first one, click here.