The intelligent trading company of the future is interactive and deploys a combination of machine learning and human services.
The world is getting smaller. Transportation routes are getting faster, storage times shorter. Resources are available anytime, anywhere. The worldwide trade knows no bounds, and it comes in many shapes and forms. In the future, intelligent international trading companies will shift from focusing on transactions and wares to the interaction with customers and suppliers. Additionally, they will increasingly adopt new technologies like artificial intelligence, machine learning, the Internet of Things, Big Data, highly specific analytics, and blockchain.
Trading companies are doing their best to implement new solutions and systems. However, only time will tell if they will succeed in creating a homogeneous, standardized software architecture together with SAP. A lot depends on how fast on-premise S/4 Hana solutions can be connected to the cloud.
The intelligent trading company of the future profits from data and know-how. Data from business relations is analyzed and interpreted around the clock. Consequently, expertise is created which customers can benefit from. Price forecasts, market observations, advise about import and export regulations and preventive measures across the entire supply chain are just a few advantages.
While yesterday's trade managers derived their knowledge from information from the past – experience, history, routine – trade managers of the future busy themselves with forecasts, innovation and learning.
Intelligent forecasting
Gut feeling has become obsolete. Intelligent trading companies do not only keep track of incoming and outgoing goods, but also of customer behavior.
Analyzing several different sets of data leads to a precise forecast of customer needs. In addition, trading companies connect individual customer data with a lot of other key indicators. These include holidays, market shifts, weather, traffic, and political and societal events.
However, this is not only used for determining customer behavior, but also for dealing with suppliers. Analyzing geopolitical and meteorological data can help make predictions about droughts, crop failure and more. This makes it for example possible for trade companies in the food industry to combat food fraud.
SAP Analytics Cloud already combines analytics, visualization, planning and machine learning into one application. What is still missing, however, is a transfer from S/4 Hana data necessary for managing international trade relations.
Intelligent inventory optimization
The art of trade: managing moving objects in a way that makes them available wherever they are needed. Intelligent trading companies use artificial intelligence and predictive analytics to manage and automate all processes across the entire value chain. Moreover, they make them transparent for employees and customers alike.
AI algorithms of inventory management systems learn from real processes and transactions how to leverage regional, seasonal, and other circumstances to optimize storage and transportation times.
Force majeure, crisis and catastrophes have always been risks for trade companies. In the 21st century, this is made worse by globalization, climate change, cybercriminals, and social tensions. What is more, meticulous transportation planning as well as extreme utilization are a risk in themselves.
Artificial intelligence cannot make these risks disappear, but it can make them significantly less severe. AI can analyze possible future events and can predict how they will impact logistics and trading. Consequently, it can create emergency plans.
With the Leonardo portfolio, SAP offers customers solutions for connecting goods, products, and transportation. Moreover, the solutions also offer completely new services, ranging from fleet management to predictive maintenance.
The underlying technology is mostly based on standard SAP solutions. Something is missing here, too: the integration with S/4. This would make it possible to monitor transportation and support consignment processes and Vendor Managed Inventories (VMI).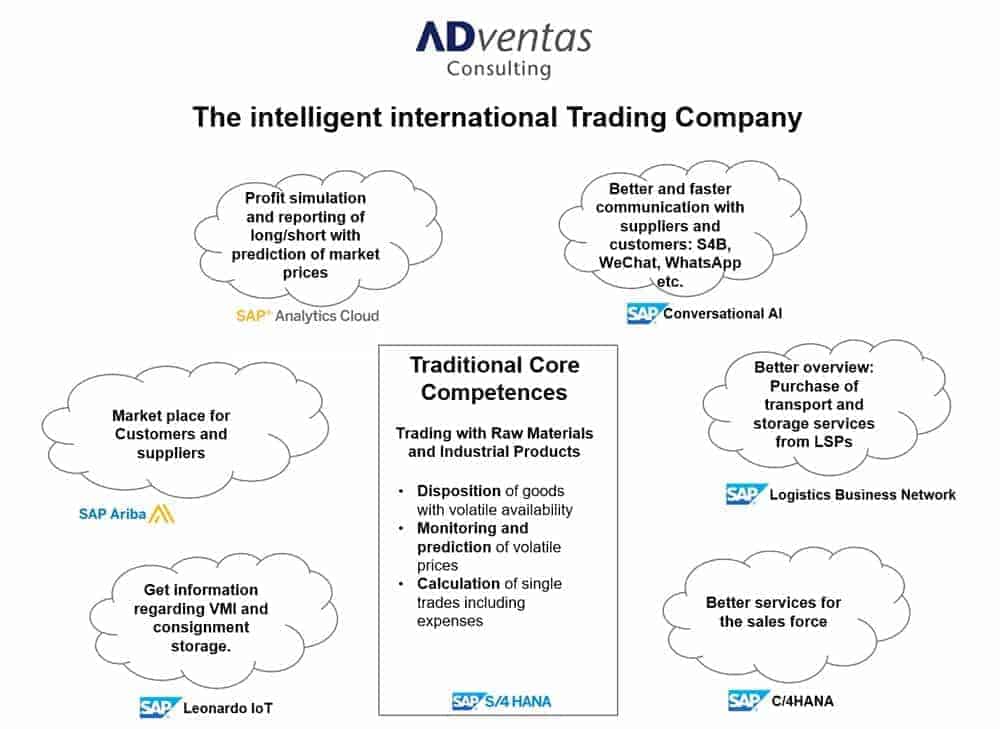 Intelligent communication and services
The primary benefit of AI is probably how fast data can be collected and analyzed to identify alternative courses and prepare corresponding actions. This gives trade managers time to develop new services for their customers.
Companies should focus more on customers than on transactions and goods. This entails communication, advise, and learning together. Trade managers of the future are first and foremost managers of relationships who communicate with customers and partners and make decisions in real time.
Here, customers can expect solutions based on the chatbot framework SAP Conversational AI. A connection to chat platforms like WhatsApp or WeChat makes it possible for customers and suppliers to benefit from automated services.
For international trading companies, transparency is the order of the day. They have to be open and honest, connect with customers and suppliers and exchange logistics data. With the Logistics Business Network, SAP wants to do exactly that. The platform still has to prove itself, however.
Intelligent trading companies
If you look at all of these developments and challenges, it becomes pretty clear that trading companies have to reinvent themselves in order to stay competitive. Most of them have recognized the sign of the times and are currently investing in a software and planning landscape for transparency, data exchange, and also a completely new company philosophy.
Therefore, the focus is not on individual software products from SAP or others, but on their integration into a strategic and technologically feasible system. Only trading companies who master this challenge will become truly intelligent.
How committed SAP really is to its vision of helping customers become intelligent, successful enterprises and therefore help to make the world a better place remains to be seen. The answer to one question in particular will be very telling: Will SAP be able to combine a lot of good solutions to a fully functional package?
Regardless of whether or not SAP will be able to pull it off, its vision of intelligent enterprises is more than just a dream of the future. For trade companies, becoming intelligent is crucial for survival.