Not long ago, the traditional German concept of "Beschaffung" and its English counterpart "purchasing" were almost exclusively limited to transactions and processes. Purchasing departments took orders for the goods and services needed to make the business go and executed them in line with company policies.
But the function has come a long way. No longer a tactical, back office process, purchasing is now, within many organizations, a strategic, digital function that beyond just savings and efficiencies, is driving innovation and transformation.
With increasing frequency, companies are recognizing that more value can be created by aggregating spend volumes, and collaborating with the lines of businesses. And that in doing so, they can not only reduce costs, but streamline transactional processes and operate in more efficient ways.
Digitizing the source-to-settle process frees up resources from tactical work, enabling them to focus on more strategic activities such as  collaborating with suppliers to drive innovations, defining a systematic risk management plan  to create a secure a sustainable supply chain.

Fuelling Innovation
The value-focused procurement function can be proactive in defining sourcing strategies and to enable supplier innovations in the process.  automotive industry and aircraft manufacturers have engaged in this type of development partnerships for many years, resulting in numerous innovative products, like efficient engines and new airplane turbines.
Another great example is the scratch resistant 'Gorilla Glass', which is used for smartphones today. Strategic sourcing can play a decisive role in driving this value-creating behaviour.
Risk management and Corporate Social Responsibility (CSR) are two other areas in focus strategic sourcing can impact. Leveraging the power of business networks and the intelligent, cloud-based applications underlying them, procurement can gain a whole new level of transparency into the capabilities, performance, and social and environmentally responsible practices of their suppliers – and their suppliers' suppliers.
They can map the bill of materials for products and services right down to their raw materials and cross-reference this information with hotspots where there is a high propensity for the use of forced and child labour to determine their risk.
And more importantly, they can receive timely alerts they can use to drive actions and report on them in meaningful ways.
Driving Transformation
Business is digitizing on a massive scale. And procurement is fast following suit. New trends such as business networks, artificial intelligence and machine learning, Internet of Things (IoT) and blockchain are enabling the function to operate with greater speed, intelligence and efficiency than ever.
Automation can play an essential role in the transformation from procurement to strategic sourcing. Speaking from my own experience: in 2012, SAP acquired the cloud-trading network Ariba and incorporated it into the company – at the time, I was the Global Chief Procurement Officer for SAP.
Ariba enables SAP to offer complete strategic end-to-end source-to-pay solutions to around 350,000 customers worldwide. SAP Ariba (the company's official name) optimizes every stage of processing, from tendering, automated ordering, invoicing, to payment, both for the purchaser and the supplier, automating the entire purchasing process.
Currently, customer demands are steadily increasing, and the trend towards cloud solution continues to grow. This comprehensive range of services was extended by SAP in 2014 to include Fieldglass, which meets the needs associated with managing temporary employees, and Concur, which automates travel booking and accounting processes.
For internal strategic sourcing, the total volume of which amounted to €4.8 billion in 2016, SAP works with around 6,200 suppliers on the Ariba network. Outside of SAP-only circles, around 2.5 million vendors offer their products on the global Ariba network, with a transaction volume of more than one trillion dollars over the past 12 months.
But back to SAP Ariba: at the time of the acquisition, SAP had already automated approximately 50% of their approximately 800,000 annual invoices. Today, SAP has been able to improve the automation rate to around 80 percent by fully implementing Ariba Purchase Order Invoice Automation.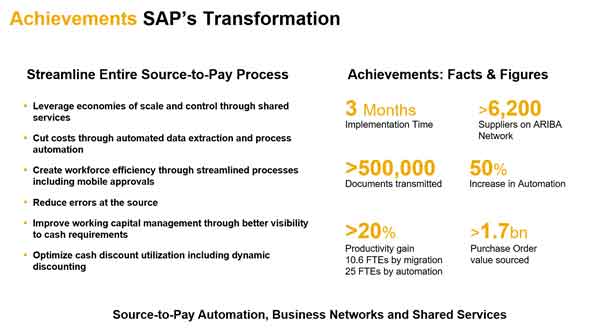 Digitization will continue to transform procurement. In the future, warehouses can automate the entire ordering and use the available data from a successful sales contract to plan the production.
3D-printing technology don't need to be searched in a catalogue, but will get printed whenever needed. Internet of Things connected sensors can automate ordering of goods and maintenance services in time and before a critical machine might stop.
Our cooperation with the Hackett Group in the Vendor Intelligence Program (VIP) plays an essential role in anticipating trends at an early stage, which can be used to develop innovations for our customers.
Hackett delivers independent evidence on how customers can improve performance, how much time is required for return on invest.
Thanks to their numerous studies and surveys, and the immense volumes of data and experience from many hundreds of consultations, Hackett provides us with insightful information across industries. I personally believe that these insights into trends is a strategic dimension of our cooperation.
Changing the Game: Talent Management in the future procurement function
Procurement can lead the way in driving this transformation. But it will require a new mindset, skills and talent. People are the most valuable asset a company has. Education and training are required to equip employees for the change they will inevitably face in today's fast-paced global economy  and motivate them to embrace it so that they can drive transformation. And companies must invest in them in order to succeed.
There is no better place than procurement to gain a comprehensive overview of a company, its overarching business model, and how the corporate strategy translates into business actions.
This gives employees a great opportunity to make an impact well outside of the function and advance their careers. As a result, it can be a magnet for top talent. Who will work to influence the ability of strategic sourcing to operate as a business partner and collaborate with other lines of businesses.
Procurement is no doubt a different function today than it was decade ago.
And it continues to evolve. Companies that embrace new technologies and ways of operating and invest in developing talent can accelerate this transformation and deliver their organizations to new worlds of excellence.