The migration path to S/4 Hana is often obscured by uncertainty. One of the biggest questions: Which of the numerous customizations will customers still be able to leverage in the new world?
Brownfield approaches can be successful, but might a greenfield approach not be more sensible, or perhaps even inevitable? How many resources (time, money, personnel) does a successful migration entail? These questions are bound to cause confusion and sometimes even concern, especially for mid-sized businesses. GIB, SAP partner and software developer for SCM optimization, is aware of these pain points, and its new suite is trying to put mid-sized companies at ease by promising them a sustainable solution that adds value to existing processes for S/4 migrations.
S/4 and Hana are the future. They are accelerating digitalization, promising competitive advantages – but right now, they still present a challenge to most SAP user companies. GIB has developed a new solution to enable customers and especially mid-sized companies to tap into the enormous potential of Hana. The new GIB suite "SCX – Supply Chain Excellence" leverages S/4 Hana's digital core and the powerful Hana technology for a holistic view of the digital supply chain.
This new end-to-end solution is, among other things, the result of over 25 years of close collaboration with customers. "What do the people working daily with supply chain processes need? How can these processes be optimized, and how can we sustainably build on the SAP standard? Through countless customer projects, we experienced the pain points of users ourselves, and were consequently able to always provide necessary additions to the SAP standard. The sum total of all of our experiences has led to the development of GIB SCX, a suite for excellent supply chain processes on S/4 Hana," explains Bjoern Dunkel, Managing Director GIB.

Analysis, planning, execution
The most prominent advantage of using GIB SCX is having a holistic, process-based overview of the supply chain. Instead of falling back into antiquated silo structures, the focus now continuously and transparently lies on the entire supply chain. "We are moving away from modular structures. GIB SCX is our more natural solution for all supply chain processes," says Dunkel.
The goal is to avoid isolated innovation in individual areas which is neither connected to previous nor subsequent processes, often disappearing as quickly as it came. Only holistic innovation allows for optimization and grants the greatest competitive advantages. Adjustments, for example in sales planning, cause a ripple effect, the new processes and solutions that come with them also being beneficial for inventory planning, production planning and order processing.
The core of GIB SCX is a control loop consisting of process step analysis, planning, execution, and optimization, which ensures continuous improvement.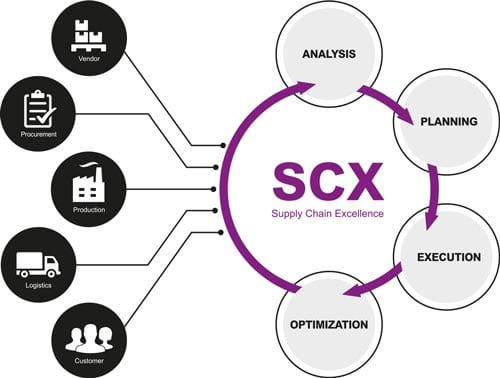 GIB SCX starts with analyzing the current state of processes and supply chains. Strategic action planning for optimization follows, always based on the latest, most recent data and key figures thanks to the powerful technology of Hana. Then, after a successful simulation, operational implementation and comprehensive control measures take place.
The focus here is on performance, usability and the intelligence inherent in the system. Specific figures and systematic evaluations show success and potential for growth. The optimization is part of GIB SCX's continuous improvement. Customers benefit from significant cost reduction, increased supply capability, more transparency and quicker processes.
The new suite by software developer GIB is yet another solution mostly aimed at mid-sized companies. SCX also uses the enormous power of the Hana technology for new features which turn the migration to S/4 from a chore into a worthwhile investment. "Supply chain optimization is indispensable for economic business success of companies, but also seems like a daunting, nearly unmanageable challenge at times, especially for mid-sized companies with more limited resources. GIB SCX aims to simplify the complex process," adds Dunkel.
GIB barometer for supply chain optimization
A central component of this process is GIB SCX Indicator, kind of a barometer for the current maturity level of a customer's supply chain. At the push of a button, GIB SCX Indicator shows customers a single KPI to determine whether they need to act. Mistakes in the planning process, such as too few requirements in the system or planning against infinite capacities, decreases the indicator's value. A corresponding value scale gives customers a simple, comprehensive overview of how urgently their shortcomings call for action.
The introduction of further KPIs, which the GIB SCX Indicator generates based on company-specific data from the SAP system, shows customers the supply chain processes that have to be optimized. The software furthermore provides detailed analysis, recommendations and control options so that optimization measures can be triggered right then and there.
The information resulting from analysis and in-depth evaluation can also be used in subsequent simulations and production planning. Consequently, the staff member responsible for planning is able to incorporate all available variables, e.g. order status, forecasts as well as machine capacities and inventory stats, in their production plan.
By changing individual variables, said staff member can determine how the production plan can be optimized. GIB SCX Indicator therefore grants customers a new simulation possibility, improving the production plan's results significantly.
The production relies on foresight instead of past data, which has a positive impact on material availability, stock and setup times, and sustainably influences costs, delivery reliability and capital commitment.
Furthermore, SCX offers clear indicators for the need to optimize inside the process itself. The impact of changing supply chain processes often takes several months to become visible.
This is an ineffective trial-and-error process if companies do not know in advance if adapting the process will have positive or negative consequences. In the analysis and optimization process, SCX clearly shows which adjustments can be made and how much can be changed without risking negative effects. This gives the supply chain manager the necessary room to experiment while still enjoying high levels of security and usually positive effects.
Horizontal and vertical supply chain with S/4
S/4 Hana opens up a new world of possibilities for GIB; a new world that the majority of customers do not yet dare to enter.
"One thing is clear: we have a large customer base that relies on our software solutions on a daily basis, and we aim to support them in the process of switching to S/4. We put a lot of resources and programming effort into ensuring that the tried-and-tested functionalities of the GIB suite also run smoothly in the S/4 Hana environment. Our customers can therefore implement the GIB suite with the brownfield approach without any additional effort," says Bjoern Dunkel, explaining GIB's hybrid approach to migrating from R/3 to S/4.
"Our proven GIB suite has realized most of its potential in R/3 – there is not much room to grow left here for us. As far as we and our customers are concerned, GIB suite in R/3 is already the ideal addition to the SAP standard. S/4, however, offers us and GIB SCX new room to grow, develop and improve," adds Dunkel. "If customers are therefore prepared to completely rethink their supply chain processes using a greenfield approach, GIB SCX is the only solution that offers plenty of room for further innovations that significantly optimize daily operation."
Some of these innovations are already available today, such as the KPI Tower for clear presentation and tracking of key performance indicators as well as a WCM tool that enables holistic business optimization according to the World Class Manufacturing principle. These new functionalities would be impossible without S/4 Hana, as the traditional R/3 basis does not offer the required performance. Switching to S/4 is therefore more than just a necessary chore for GIB customers.
"Our strategy is clearly based on S/4. From 2020 onward, we will only develop in this new software world. Of course, some functionalities that can be downgraded will be offered to R/3 customers who have not yet dared to make the move as well. However, every downgrade should stay within sensible limits – we will carefully examine which functionalities can and should be offered to individual R/3 customers on a case-by-case basis."
Future of SCM is GIB
The future of supply chain management is therefore the new suite GIB SCX, as it offers horizontal connection as well as the potential for vertical value generation. In cooperation with parent company ifm, a global and leading manufacturer of sensor technology, GIB has succeeded in developing a unique bridge between the horizontal and vertical worlds that is perfectly integrated in SAP systems: the GIB solution "Shopfloor Integration – SFI" which connects sensor data with ERP systems.
For Bjoern Dunkel, this will continue to be an important topic, as he explains, "In the future, the connection of vertical and horizontal processes will certainly be an essential USP of GIB SCX. Consequently, we are focusing most of our efforts on it."
This is the second article of a series. If you want to read the first one, click here. If you want to read the next one, click here.