A new PAC/CXP Group study finds that 93% of European manufacturers and transport operators believe that their maintenance processes for industrial equipment and vehicles are not very efficient.
Market research and strategic consulting company PAC has conducted an in-depth study to find out the impact of digital technologies on maintenance processes among European manufacturing and transport companies. After publishing initial key insights on April 18, 2018 PAC  announces the publication of the full study entitled "Digital Industrial Revolution with Predictive Maintenance" based on a survey of more than 230 senior business and IT executives.
European manufacturers and transport operators are betting on digital technologies to improve efficiencies of maintenance processes of their equipment, vehicles and products. Major goals are cutting unplanned downtime, improving the lifetime of aging equipment and boosting the customer experience by enabling better product maintenance.
With the rise in availability of digital technologies companies have a chance to revolutionize these processes, but do they have the required infrastructure and capabilities in place?
Milos Milojevic, Industry Analyst at PAC, said,"The results of the study clearly show that the companies in Europe at the moment do not have internal capabilities to redesign their maintenance processes based on predictive insights that they can get from growing amounts of collected data. The most critical areas they need to work on in collaboration with vendor ecosystems are their technology landscape, supporting infrastructure and analytics capabilities."
75% of companies are already strongly involved in collaboration with network service providers that are trying to make their infrastructure predictive maintenance-ready. Second type of vendors that are mostly involved in helping companies switch to predictive maintenance are hardware and industrial players.
Telecom companies also come up quite high (57%) based on the level of collaboration with manufacturers and transport operators on predictive maintenance initiatives. PAC expects that this collaboration will continue and sees that the demand for the IT services companies, software companies and consulting companies will further grow in the short to mid-term.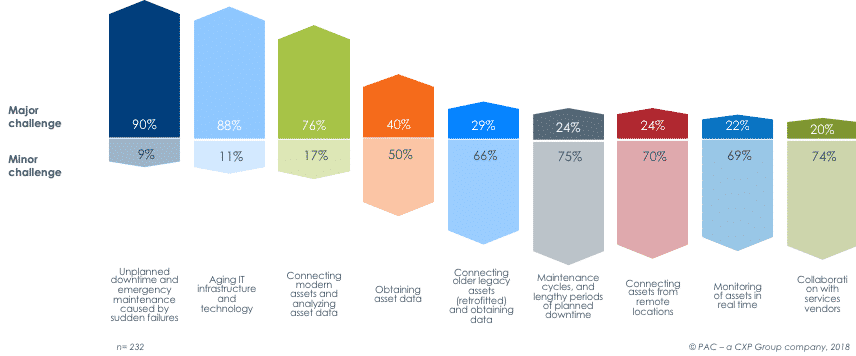 According to this research, major areas where companies need external help when it comes to adoption of predictive maintenance is analytics of machine data, implementation of infrastructure to connect production sites and assets, implementation of these solutions and capturing and management of data coming from the assets.
The results of the survey also reflect a determination to address these issues as more than 90% of the companies plan to invest into technology solutions that underpin and enable predictive maintenance, such as: data and predictive maintenance platforms, networking infrastructure, Internet of Things (IoT) and edge analytics.
Franck Nassah, Vice President Digital Business Innovations at PAC, said, "Current investment plans of European manufacturers and transport operators suggest that they have an imperative to become more efficient. Also, existing developments and collaboration with the vendors show that they are making the necessary steps in the right direction of building up their infrastructure and obtaining required expertise around data analytics. The success factor will be their ability to partner with the right set of vendors in order to identify the sources of data needed to obtain valuable predictions of asset outages and unlock them."