With IT tools it is now possible to provision SAP on-premises systems completely as digital twins and to transfer these into a Public Cloud and operate them there. And you can transfer them back to an on-premises environment if needed. Everything is highly automated.
Numerous SAP basic tools/additional solutions provided by SAP partners have been created either as part of projects for SAP customers, due to the expansion of in-house solution offerings for the SAP environment, or from experience in consulting and operational projects. This has also been augmented due to requirements to supplement SAP basic tools as well as partner solutions from the hardware sector. LNW-Soft aimed at a mix of both requirements few years ago. The motto of LNW-Soft is: "From the practice for the practice".
Hybrid Cloud deployment requires SAP basic tools
Naturally the SAP Hybrid Cloud era is not connected with a complete paradigm shift for SAP basic tools. It is more about linking or expanding the requirements of Hana on-premises operation with Public Cloud or Multicloud use. With the objective of being able to exploit the potential of Hybrid Cloud deployment in the most optimal way. Specifically, LNW-Soft has expanded its Proactive Management Suite, used by SAP users with a module called Cloud Bridge, which is provided for Microsoft Azure Cloud.
The Cloud Bridge can be used to do the following with just the press of a button (and offers much more than what is conveyed by the term bridge): With this PMS module it is possible to provision a clone of an existing on-prem SAP system environment/infrastructure with all the resources required for operation (compute, storage, operations environment such as DNS, LDAP etc.) and SAP-specific content (SAP Hana Database, SAP application instances and much more) and to transfer these into Azure Cloud ("Lift and Shift").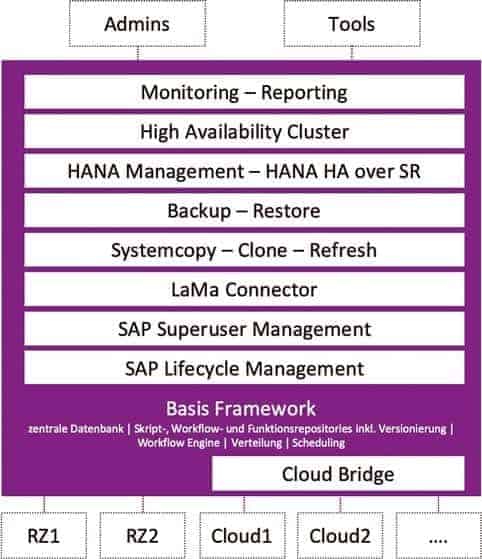 The subsequent SAP operation is also implemented in the Public Cloud infrastructure through the SAP operating concept integrated in PMS: for example essential operational areas such as Backup/Restore, Monitoring, HA or Hana HA are guaranteed.
Users also have the option to create a replica of the original based on the requirements (use cases) and to operate these replicas completely in Azure Cloud. For example, as a Disaster Recovery System (DR) for supporting and ensuring Business Continuity processes and to minimize in-house data center capacities.
If additional SAP environments are required and if on-prem capacities are already exhausted, PMS can be used to provision the SAP system environment/infrastructure into Azure Cloud in the shortest possible time and to operate it from there. This is not all. If required and if on-premises capacities allow, this SAP environment can be quickly transferred back to the on-premises environment and reused.
Thus users of the PMS suite benefit from the scope of Cloud Bridge architecture because they are already familiar with PMS logic and features (like Backup and Restore or Hana-HA). For example, NetApp for SAP users with Cloud Volumes Ontap, who already use PMS as the solution for generating added value. But it is equally beneficial to PMS users, who use Cloud Volumes Services/Azure NetApp Files.
Cloud or On-premises is not the issue here
Use cases (PMS Content) already used by PMS customers in an on-premises environment are also available for the Public Cloud. In other words: PMS users do not have to miss out on known and proven functions. In addition, Cloud Bridge also enables relocation among and beyond Cloud providers with the same functional scope.
Furthermore, Cloud advantages propagated by Cloud Bridge can be verified in real-time. That is, by comparing the Cloud service provider's services (for example performance or pricing) with customer-specific criteria. Naturally, users have the option of using Cloud Bridge as a separate and stand-alone PMS solution, also without Cloud provider/vendor lock-in.
This is the fifth article of a series. If you want to read the first one, click here. If you want to read the next one, click here.