Hasso Plattner and former SAP CTO Vishal Sikka planned the evolvement of database Hana as metamorphosis: from egg to larvae to adult. Former SAP CTO Bernd Leukert had to present Hana 2 in 2016, however.
In 2013, a press conference took place that became a turning point for Hasso Plattner and former SAP CTO Vishal Sikka. When they were asked about the current release of SAP's database Hana, Plattner said, "Hana will not have version numbers because the database will be continuously improved."
What he meant by that was that infamous release changes should be taken care of in the background while Hana would continue operating as usual. SAP customers would therefore be relieved of updates.
The idea of continuous improvement is fascinating and somewhat reminiscent of a biological metamorphosis. And why shouldn't IT experts learn from nature? It sounded like a reasonable concept.
Many years later, however, the SAP community realized that SAP's idea failed completely. The number of existing Hana releases is nearly unmanageable, and subsequent problems are impossible to solve.
Hana 2: The best is not good enough
SAP customers who want to migrate their financial applications to Hana cannot simply choose state-of-the-art Hana; which would be Hana 2 in combination with IBM's Power server. SAP's financial applications are only available on Hana 1, and Hana 1 needs HP Superdome for maximum performance. Not exactly great for customers, as HP Superdome is not nearly as powerful as IBM Power.
The following graph shows the timeline of when different Hana releases were implemented at SAP (and is available as PDF download at the bottom of the page).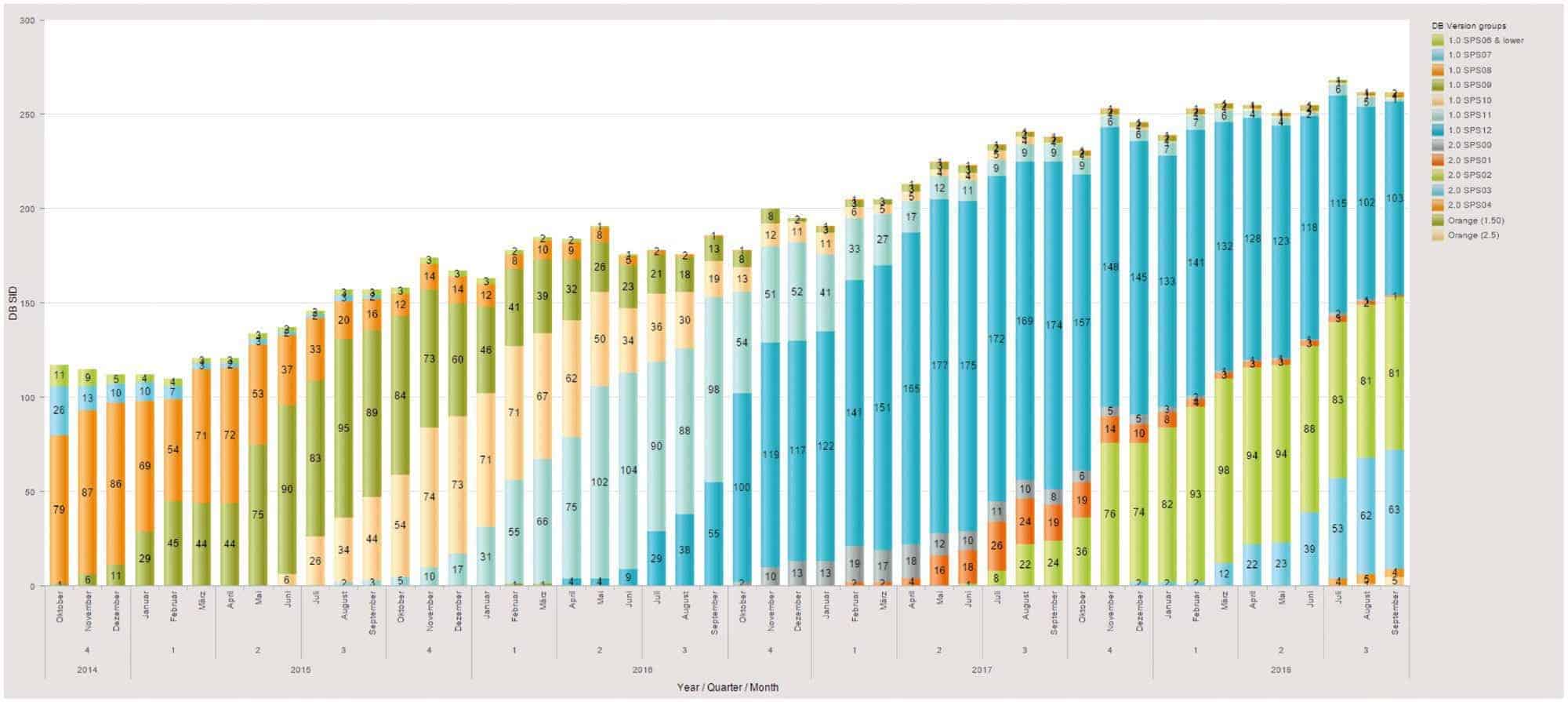 Not only is the high number of different releases surprising, but also that as of 1st of October 2018, 41 percent of all Hana systems were still Hana 1. This means that two years after Hana 2 was first presented, only 59 percent of SAP's own systems were running Hana 2.
There is even an ongoing debate as to why Hana 2 would be necessary in the first place.
Hasso Plattner and Vishal Sikka imagined a Hana metamorphosis without release changes. A few weeks after the disruptive departure of Vishal Sikka at the beginning of 2014, there was a conference call with his successor, Bernd Leukert.
It is still a strong-held believe of E-3 Magazine that during this conference call, Leukert talked about a necessary retreading of Hana. SAP's press department has been adamant in disputing this claim. However, SAP could not prove that E-3 Magazine was wrong, because there apparently are no audio files of that conference call.
Hana 2
However, two years later at TechEd 2016 in Barcelona, Bernd Leukert himself might have proven E-3 Magazine right by presenting Hana 2.
"The first version of SAP Hana is the synonym for real time processing of data. It's already the backbone of thousands of major companies," said Leukert. "I'm proud to officially announce SAP Hana 2. This next generation of Hana is the digital foundation to transform any business, helping IT shift focus to innovation, continuing to evolve data management and application development."
Since 30th of November 2016, Hana 2 has been available for customers. Additionally, Leukert announced a paradigm shift at the same event, "As innovation platform, SAP Hana 2 will have new updates available twice a year to support an agile development."
This marked the end of SAP's vision of metamorphosis, and customers now have to deal with two updates a year.
Hana 2 updates are supposed to support high availability, security, workload management, and database administration. With the new option of Active/Active Read Enabled, customers are supposed to be able to leverage secondary systems for managing intense workloads without losing performance.
Furthermore, a new version of the web application SAP Enterprise Architecture Designer based on Hana 2 is supposed to enable companies to manage complex data structures and to visualize the potential consequences of implementing new technologies.
All of this was supposed to happen.
And what's really happening?
Considering the numerous existing Hana releases, it is difficult to keep up with the right service updates. This results in an often very unstable Hana system architecture. Customers often complain about the instability of SAP's database – but it probably is safe to assume that SAP has not been listening.
How did this even happen? The website Brightwork offers an explanation. Through countless Hana research notes, Hana's history, and the technological development, Brightwork's analysts believe they have found the reason for this Hana chaos. Hasso Plattner, his team at Hasso Plattner Institute, his employee Alexander Zeier (now Accenture), and former SAP CTO Vishal Sikka are not database or compiler constructors.
Brightwork's analysts criticize Hana's design, not the underlying idea. How databases and compiler are supposed to be constructed is its own discipline in IT. When Hasso Plattner and his colleagues presented the idea of Hana to professional developers at SAP, it was already too late to implement some of the most important features.
For example, SAP SVP Franz Farber tried to make Hana operational for virtual environments for many years to eliminate the numerous anomalies. Many improvements were made since it was first announced, but the goal of a stable ERP, CRM, and BW database was never reached.
Even more bad news
During a press conference at the beginning of this year, SAP CEO Bill McDermott and CFO Luka Mucic announced a restructuring program.
During its course, some 4,400 SAP employees are to be laid off. One among many casualties was a Hana lab in California where 250 technicians and programmers were let go.
It becomes ever more unlikely that Hana's retreading will finish anytime soon with even less experts on board now.