Support for SAP ERP/ECC 6.0 will end as early as 2027. Current SAP customersshould therefore initiate the migration to the successor S/4 system well in advance. It could even replace in-house on-premises solutions.
How companies can get the most out of their move to SAP S/4 Hana
For many SAP customers, this may mean saying goodbye to on-premises solutions and moving to cloud infrastructures such as Amazon Web Services (AWS). The exclusive managed service collaboration Amazon FSx for NetApp ONTAP ensures a smooth migration from on premises to AWS as well as fast, secure, and privacy-compliant operation of Hana landscapes.
More than two-thirds of all global business transactions are processed in SAP systems in some form. It should therefore come as no surprise that the global migration from ECC 6.0 to S/4 is a challenge for companies of all sizes and in all industries. But it can also be seen as an opportunity. That's because when support for ECC 6.0 ends in five years, companies around the world will be working with the faster in-memory database Hana.
Nevertheless, some SAP IT specialists at certain companies may not view this development quite so positively. After all, SAP systems and applications such as enterprise resource planning (ERP) are mission critical – meaning that without them, smooth operations cannot be guaranteed. When you are contemplating extensive changes to these systems and perhaps even a hosting change from on premises to cloud, you have to be sure that everything runs flawlessly.
SAP transformation to the cloud
For some companies, moving their SAP system to the cloud may be their first contact with this technology. To make sure that this first experience with the cloud does not become their last, and to help businesses reap the long-term benefits of cloud hosting on various fronts, NetApp, an international software group with a focus on cloud and data management, has joined forces with cloud specialist AWS to simplify the migration of complex application environments to the cloud.
And because SAP transformation is such a hot topic right now, the two partners have had Amazon FSx for NetApp ONTAP certified for SAP. This fully managed solution takes the work out of your hands. It allows mission-critical SAP workloads to be migrated to the cloud quickly and seamlessly without refactoring and restructuring. It also combines the familiar benefits of an on-premises system with the scalability of cloud infrastructures like AWS.
Mastering the switch
When switching to S/4, some companies want to continue hosting on premises—not necessarily because this offers advantages over the cloud, but because the companies do not want to "hand over" mission-critical systems or because compliance requirements forbid this. This is where Amazon FSx for NetApp ONTAP comes in.
The solution combines the ONTAP storage operating system with AWS cloud services. The operating system is the foundation on which SAP S/4 is built, while the AWS cloud is like the real estate on which the structure stands.
But unlike a plot of land, a cloud environment is much more flexible. Are there changes to the required storage volume for the hosted system? No problem, since the storage space can be expanded both upward and downward. Latency and availability in today's clouds can also keep pace with on premises servers. With Amazon FSx for NetApp ONTAP, you can achieve up to 99.99 percent availability. And for an ERP system, that's absolutely necessary!
Hosting and storage are included in the solution package. For S/4 to function efficiently, reliably and securely via the cloud, data management must also be guaranteed. Amazon FSx for NetApp ONTAP is fully certified for S/4. This means that the Hana database can be integrated without any problems. Extensive data protection functions are also integrated.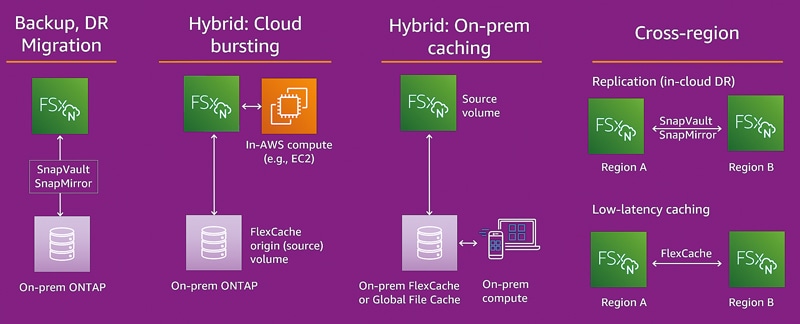 Data recovery strategy
These include point-in-time file system snapshots. This ensures that a company can continue to operate even in the event of a ransomware attack. The snapshots form the basis of the data recovery strategy. Another data protection function is storage replication. Users can use this function to move data packets across different regions, for example when secondary copies are needed because a service has crashed.
The DevOps department also benefits from the solution. At the touch of a button, developers can create instant clones of files. These clones then serve as test environments for new developments. If something doesn't work, the file with the original configuration remains unchanged. The advantage is that the clones only consume additional memory if something in them is changed. All the data and configurations they share with the parent files do not require additional capacity. This allows for faster development and test cycles, which in turn lead to better time-to-market and time-to-value for the business.
To keep track of all data streams, both AWS and NetApp tools can be used. This ensures that users maintain an overview at all times and can detect suspicious activities at an early stage. The intuitive management platforms also provide a place for centrally managing snapshot-based data protection functions. The solution delegates backup, recovery, and clone lifecycle management to the application owner.
Compliance
In the past, some businesses shied away from hyperscaler cloud environments because they were concerned about compliance. Companies that have to follow strict data protection regulations may not fully trust the cloud. With Amazon FSx for NetApp ONTAP, that doesn't have to be the case. The solution meets various international security standards, including ISO 9001, ISO 27001, ISO 27017, ISO 27018 and PCI DSS, as well as SOC 1, 2 and 3. It is also suitable for storing data in compliance with the Health Insurance Portability and Accountability Act (HIPAA). What's more, it also allows audits to be conducted smoothly. If the log function is enabled, it records events that users and auditors can then read out with programs such as the Windows Event Viewer.
Performance and reconfiguration
One of the main benefits of the solution is the reduced "recovery time objective" (RTO). For mission-critical systems such as an ERP, this is necessary because they must be able to function again quickly in the event of a cyber attack. Amazon FSx for NetApp ONTAP provides snapshot technology that enables large datasets to be rolled back to a specific point in the past in just a few seconds. The time to execute a backup copy shrinks from hours to less than a minute. The server CPU and the network do not experience any performance reductions while the backup is being performed. Restoring and reconfiguring the system takes minutes rather than hours. The solution also makes it possible to carry out several backups a day. This lowers the probability of data being permanently lost due to an attack. Systems are back online faster and damage can be minimized.
Small and medium-sized enterprises should use the end of support for SAP ECC 6.0 as an opportunity to accelerate the roll-out of SAP S/4 Hana and the associated cloud transformation. The joint solution from NetApp and Amazon successfully combines the simple and secure management of on-premises solutions with the scalability and speed of the cloud. This saves time, costs and resources. Migrating early to SAP S/4 Hana will ensure that companies are ready for the competition of the future.
---
Amazon FSx for NetApp ONTAP
Amazon FSx for NetApp ONTAP is a storage service that enables enterprises to start and run fully managed NetApp ONTAP file systems in the AWS cloud. It delivers the familiar features, performance, capabilities, and APIs of NetApp file systems, along with the agility, scalability, and simplicity of a fully managed AWS service. SAP environments and applications span many different departments and levels within a company. As a rule, they are deeply rooted in the company structure. Managing them often requires a large amount of resources, and over time this can blow many a budget. But it doesn't have to be this way. IT service providers offer various solutions to simplify SAP operations and minimize the total cost of ownership (TCO). They enable you to maintain the flexibility and scalability of the system while using IT resources more efficiently. Of course, implementing such a solution is quite a commitment. It should have the following features and functions:
A cloud-like usage model for local environments
Payment, subscription and usage-based service options
A uniform architecture with integrated automation
An integrated data backup concept
A fully tested and proven solution
Automated capacity monitoring and proactive problem detection
Tools to better understand consumption and costs
Data deduplication and compression
This is the second part of a five-part series! If you would like to read the third one, click here.