Designing your business model does not have to be hard if you follow these simple steps. [shutterstock: 406788835, stoatphoto]
This monthly column is a guide to SAP ecosystem opportunities, challenges and how to successfully manage them. It is based on the book "Profit from the SAP Ecosystem" by Synomic's Ralf Meyer and combines startup methodologies with proven SAP ecosystem best practices. Based on the experience from more than 50 SAP partner companies, 25 business models and 22 SAP partnership models. The author covers the SAP ecosystem, partner models, business model and value proposition design, SAP solution alignment, indirect-SAP-usage, partnering, go-to-market, strategy development and more.
An important starting point for sustainable business success is a winning business model that describes how your company creates and delivers value for your customers in the SAP ecosystem.
In 2008, Alexander Osterwalder developed his now well-established methodology, known as "Business Model Generation (BMG)", based on the "Business Model Canvas" to describe, discuss and design business models. BMG became important part of the "Lean Startup" methodology developed by Eric Ries and Steve Blank. It is kind of a visual chart, describing the underlying nine main elements of any Business Model. This helps to align the different stakeholders within and outside of a company. In addition will we introduce you later to "Design Thinking", a methodology supported by SAP co-founder and chairman Hasso Plattner. In later chapters do we use the Business Model Canvas to explain and compare the various SAP Partnering Business Models and its "inner mechanics". We strongly encourage you to use this powerful methodology.
The Business Model Canvas
Helps to describe the basic requirements with nine building blocks: (1) Customer Segments, (2) Channels, (3) Customer Relationships, (4) Value Proposition, (5) Key Activities, (6) Key Resources, (7) Key Partners, (8) Revenue Streams and (9) Cost Structure.

Starting point of the Business Model Generation process is either your targeted customer segment (1) or the value proposition (4) of your solution or service. Putting these basic requirements together, our BMC looks like this: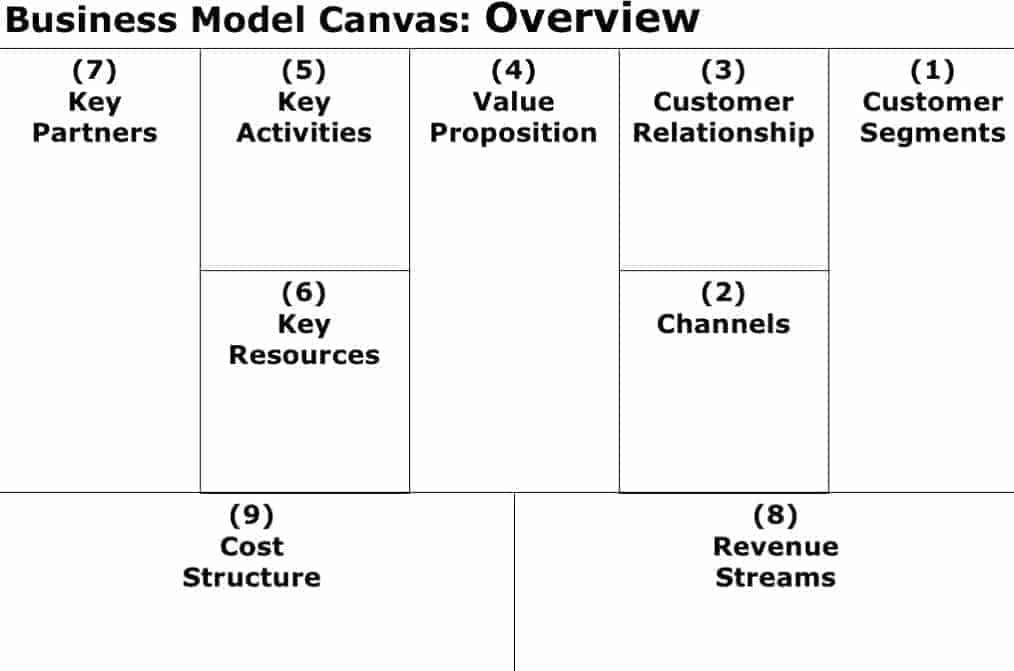 Customer Segments
At the core of every business model is the important question of which customer segment it reaches and serves.
Businesses can serve one or multiple customer segments that are differentiated e.g. by the following:
Customer needs or behaviors, e.g. ISO 9001 compliance
Size of the target customers, e.g. large enterprises, medium-sized and small enterprises
Industries, e.g. automotive, banking, pharmaceutical, public sector or utilities
Business functions, e.g. financial controllers, executives, HR department
Value Proposition
The value proposition describes how a solution creates value for a specific customer segment by solving a particular customer problem or by satisfying a defined customer need.
The value proposition defines how an offering can provide the following:
Help customers to get jobs done better.
Offer additional or enhanced functionality or better price/value performance.
Reduce the total cost of ownership (TCO) and/or risks.
Close gaps in SAP offerings.
Represent new and innovative solutions.
Ensure compliance.
Channels
How does a company reach out, interact, and deliver the value proposition to its customers? This question is answered in the "Channels" building block. Channels are especially important in the SAP ecosystem as SAP has customers in 180 countries and many of the larger SAP customers are present in many countries too. It follows that the smaller SAP partners are at a disadvantage in keeping up with the pace at which SAP and its international customers expand into additional countries. Channels are therefore a far cheaper and less risky alternative to address this issue.
The building block "Channels" describes how your company accomplishes the following:
Find and interface with target customers.
Inform customers about your solutions.
Evaluate your solution and value proposition.
Customers purchase your products and services.
Provide support after purchase of your solution.
Typical channel types are direct sales, partner sales, digital, web, or app shops.
Customer Relationships
Customer relationships describe the connections that your company wants to establish with specific Customer segments and can range from a high-impact, direct key-account relationship to a fully automated, mass-market, low-touch relationship via web shops or B2B/B2C integration. Customer relationships have gained special importance as part of the "Digital Transformation" movement, in which the value co-creation between suppliers and customers has become one of the central elements of innovation. Some of the main drivers in the definition of customer relationships are answers to questions:
How can we find, attract and acquire new customers?
How can we retain customers?
Is it feasible to upsell?
How can we design and create an overall customer experience?
What structure of costs of sales makes sense with the desired business model?
Examples of different ways to design customer relationships are key account management, direct sales, channel sales and automated sales services like AppStores.
Revenue Streams
Ultimately, each company and business model has to make – enough – money to survive. Revenue streams classify the amount for which your customers in the different customer segments should pay for the value they receive under your business model. Revenue streams compensate for products and services provided to individual customer segments. Thanks to the digitization, there are now new revenue streams, like the monetization of data. Data collected around customers and their processes also enables new types of pricing and revenue models that can be highly tailored, dynamically adapted to customer needs, and help differentiate smartly from competitors.
Here are some examples of pricing models:
Licensing (per user, server, etc.)
Usage fees (per number of accounts/transactions, GB/month, etc.)
Subscription fees (per service or year, etc.)
Referrals, share of revenue or other indirect revenue streams.
Revenue streams can differ by one-time customer revenue and/or recurring revenue from ongoing payments, subsequent purchases, services, channels or customer support.
Key Activities
Key activities are the most important basis for making a business model work successfully.
Examples of key activities for a partnership with SAP could  include the following:
Build integrations with an SAP solution.
Develop on the SAP Platform and get a solution certified by SAP.
Key Resources
Tangible and intangible key resources are assets or people needed to make the business model work and are different for different business models and customer segments, including:
People (human resources)
Industry expertise
Financial invest
Intellectual property
Process or operating excellence
Specific manufacturing machines or techniques.
Key resources do not necessarily have to be owned by a business. They may also include resources which have been acquired, rented or licensed on demand from customers or partners.
Key Partners
Key partners are vital for delivering the value proposition, like e.g. partners is a network, supporters and suppliers that help to make the business model work:
Acquire or build needed components and/or resources.
Run or scale the business and reduce costs or risks.
Cost Structure
The cost structure covers the bottom line and outlines the costs associated with the implementation and operation of a specific business model.
During creation and delivery of the value proposition
During establishment and maintenance of customer relationships
During sales including e.g. referral fees
While leveraging key resources, key activities and key partners.
Example
Let us use the business model of Adobe as an example. Adobe very successfully provides creative solutions – digital text and graphic editing and production – for the wider public. In addition, Adobe provides integrated business solutions together with enterprise partners such as SAP. Looking at the customer segments, we see that Adobe primarily serves two customer segments: people who use the creative products (graphic designers) and companies or people who use the business solutions (SAP customers). Value proposition are tools for graphic designers and solutions for higher productivity as part of the SAP solutions. Each of these value propositions are depicted in one box.
Channels for Adobe are mainly Adobe websites and for business customers partners such as SAP. Customer relationships in the Adobe graphic designer business are highly automated mass relationship and for SAP customers the SAP field organization. Revenue streams for Adobe are the graphic designer subscription business "Creative Network" and a second revenue stream from reselling partners such as SAP.
Key activities for Adobe are integrating and certifying the business solutions with SAP and providing content such as industry-specific forms. Key resources are the Adobe SAP team, which includes content development and customer support. Key partners are SAP and the many SAP service partners who implement and support the joint SAP and Adobe solutions. Cost structure for Adobe SAP business is includes: cost for building the solution, SAP integration and certification, as well as maintaining and supporting the Adobe-SAP integration and the revenue shared with SAP.
Putting all these factors together, we arrive at the following Business Model Canvas: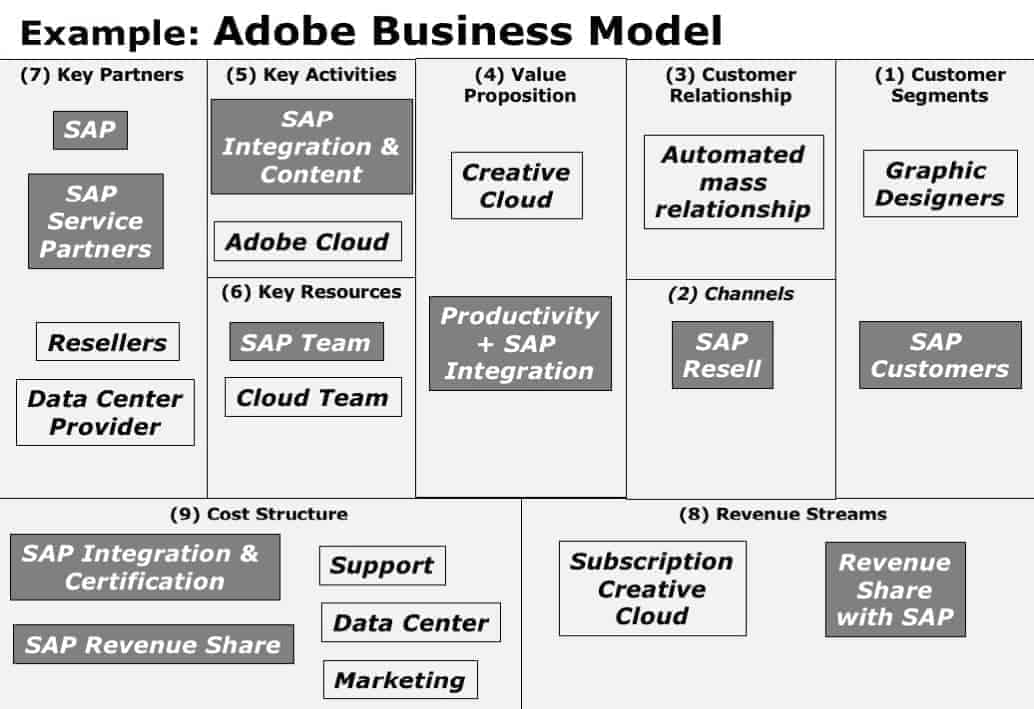 Links: