The SAP community offers a wide range of business opportunities. Ralf Meyer has compiled a list what you can do. [shutterstock: 530276713, phloxii]
This monthly column is a guide to SAP ecosystem opportunities, challenges and how to successfully manage them. It is based on the book "Profit from the SAP Ecosystem" by Synomic's Ralf Meyer and combines startup methodologies with proven SAP ecosystem best practices. Based on the experience from more than 50 SAP partner companies, 25 business models and 22 SAP partnership models. The author covers the SAP ecosystem, partner models, business model and value proposition design, SAP solution alignment, indirect-SAP-usage, partnering, go-to-market, strategy development and more.
The SAP ecosystem is a community of more than 15,000 companies formally partnering and with approximately 2 million employees engaging with SAP in various value chains.
Partner sell their own products or services to SAP or SAP customers, sell SAP products, or services based on SAP offerings. Furthermore, can partner get venture financing from SAP through Sapphire Ventures, get financing for their customers' license fees from SAP Financing or finally become potential acquisition candidates.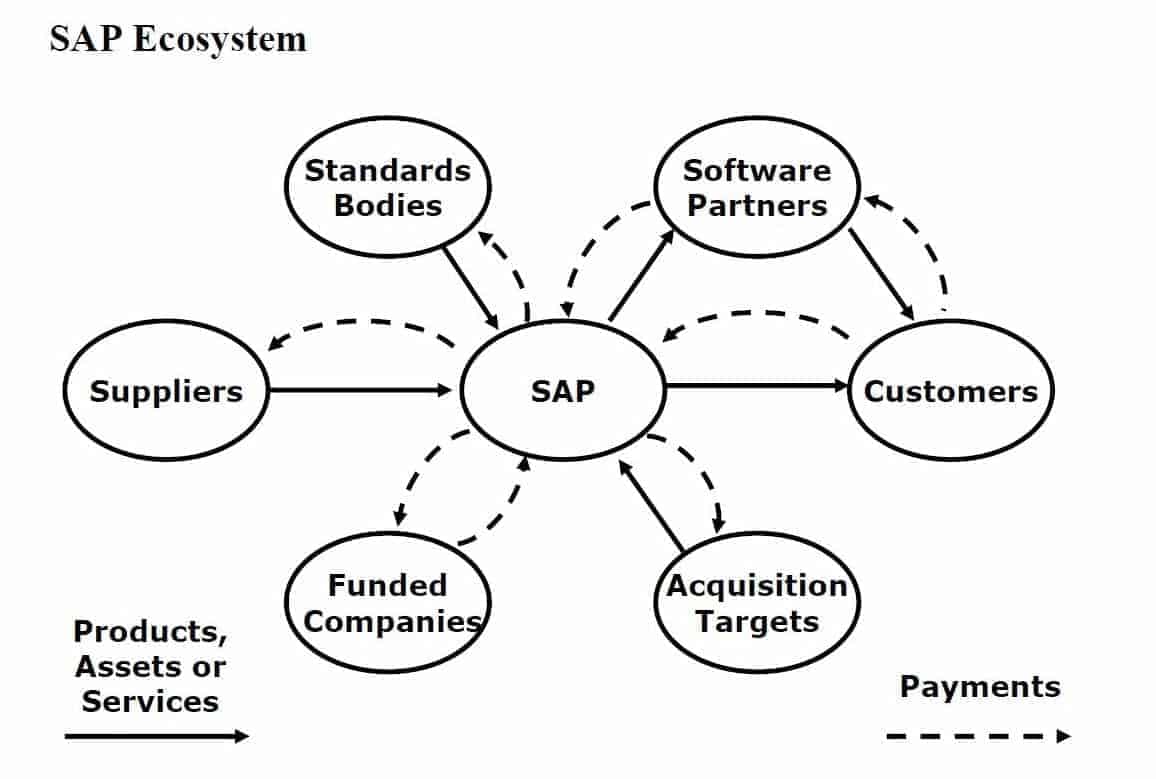 What's in it for software companies?
In an ecosystem, you should try to leverage the relationships with other participants. Tap into existing or create new revenue streams, sell software and services to SAP, partners and customers. Leverage network effects and sell software and services to customers' and partners' respective ecosystems.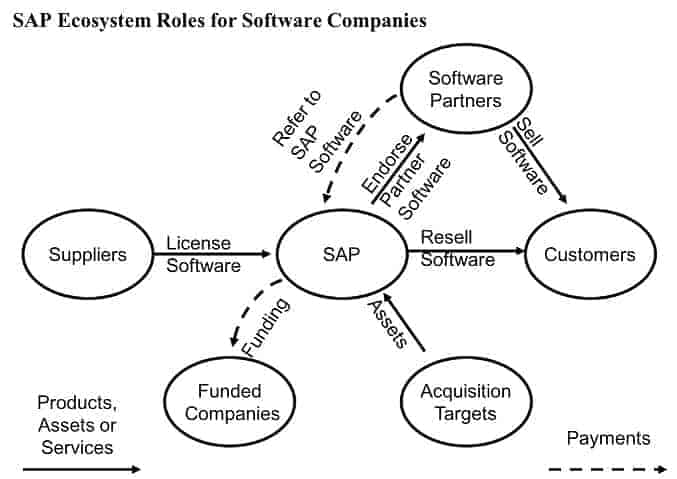 License software to SAP
SAP includes software from partners in SAP products (OEM). One example for inbound OEM is Jive which recently announced that they licensed their blog and wiki functionality to SAP enhancing the Hana portal offering.
Sell software to SAP customers
A software company can sell directly or indirectly to SAP customers. One way to sell software to SAP customers is to sell indirectly through SAP or SAP partners. Selling through SAP is usually done via reselling agreements with SAP. However, since SAP sells the software, an important prerequisite is that you can show that your solution is complementing SAP's solutions and creates lots of revenue.
Another indirect selling option is having it resold by SAP partners (like system integrators) who have access to many SAP customers. Direct sales to SAP customers are handled by getting direct access to the SAP customer base, for example with support from ecosystem consulting companies who already have direct access to a number of SAP customers.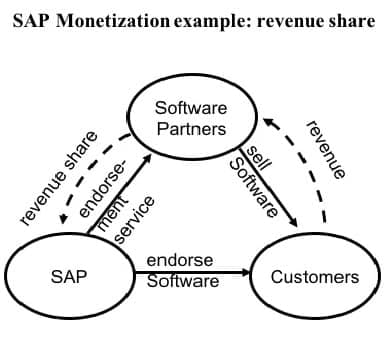 Example
Health Benefits & Finance by VitalSpring complements SAP's Human Capital Management and Finance solutions.
Get first mover advantage by co-innovating with SAP
SAP offers different opportunities to co-innovate with SAP in the form of new combinations of SAP and non-SAP solutions. You can collaborate with SAP experts, other partners and customers and keep up with new trends and functionalities around SAP applications and Enterprise services.
Example
The Community Definition Group for Banking has over 30 companies working on the definition of Enterprise Services for the Banking industry. The list of members includes Accenture, Callataÿ & Wouters, Commerzbank, CSC, Deloitte Consulting, FinanzIT, HP, La Caixa, PricewaterhouseCoopers, StreamServe, Syskoplan, Swift and TXS Financial Products.
Get acquired by SAP
SAP is very active in acquiring companies, most of which are smaller in order to facilitate the integration of the acquired company and solution into SAP. If it fits the company strategy, SAP has also shown that it will and can acquire large companies like BO, Sybase too.
SAP tries to optimize its assets to reach economies of scope, and therefore focuses its offerings on high customer value and on high revenue expectations.
Examples
Lighthammer , acquired in 2005 as the Collaborative Manufacturing Suite improved SAP's solution portfolio in the manufacturing space. Other examples are MaXware, Technidata, Sybase, Hybris and Outlooksoft.
SAP customers and their ecosystem
SAP customers provide an excellent opportunity for partner companies to sell services and products. SAP's customers are organized in User Groups, with large customer ecosystems, e.g. the American SAP User Group (ASUG)  the German speaking SAP user group (DSAG)  and many more across the globe.
SAP Community Network
The SAP Community Network  is a large community of developers and consultants, focusing on developing and implementing SAP solutions. According to SAP, there are over a million members in this community. It is a good source for technical information, but also a good source for people and companies to collaborate with. If you do have an  SAP S User ID,  you will find a wealth of resources by simply login into sdn.sap.com. If you not have the User ID, the following communities and the Industry Value Network can also be found in part via the SAP Community Wiki.
Business Process Expert Community
The business process expert community with over 200,000 members is a community of individuals with expertise on business processes. SAP's goal is to standardize business processes with the support of many customers and partners. If your focus is on business applications, this community is for you.
You can get the latest information about SAP business processes in the form of a technical library of articles, whitepapers, and documentation, software downloads, code samples, and e-learnings. It is a place to find out how your solution complements SAP business processes and provides value. Based on this information, you can better describe the value proposition of your solution.
Example
The Business Process Expert Community for Supplier Relationship Management offers background information, discussions and contacts to subject matter experts as well as consultants and customers on this topic.
Enterprise Services Community
Enterprise Services are web services used in business processes and are the foundation of the SAP's Business Process Platform. Opportunities for software companies in ESC are: Early access for building solutions. Influence and request definition of Enterprise services from SAP, and work with customers to create better definitions. Find out if and how your solutions complement and extend BPP. Get acquainted with members of the ecosystem around BPP. Software companies should join ESC.
Example
ESCs are working on defining enterprise services for collaborative health networks, the insurance industry or human capital management: organizational management.
Industry Value Networks
Industry Value Networks group the SAP ecosystem by industry and enable industry-specific collaboration and innovation between SAP, their partners and their customers. Software companies can leverage it to gain visibility and to strengthen their ecosystem in a specific industry. Remember, SAP already has the largest customers in almost any industry.
Example
One example is the Industry Value Network for aerospace and defense with e.g. Honeywell, Lockheed Martin, and Eclipse Aviation.
Types of SAP partnerships
Usually partner companies in the ecosystem are summarized by SAP in the following categories: Software solution providers (SSP), services partners, including, but not limited to, system integrators (SI), technology partners providing the infrastructure for SAP solutions (hardware vendors, database and storage vendors), channel, hosting, support, content and education partners.
Example
Adobe Systems as independtent software vendor, Accenture as system integrator and Intel as a technology partner.
It is interesting to notice that SAP does not have an explicit community for software companies and software-related partnerships. A number of software companies actively participate in communities like SCN, BPX or ESC, but there is no forum for a partner community. This has led to the foundation of a formal SAP partner community, the International Association for SAP partners.
International Association for Software Partners (IA4SP)
SAP partners have organized in a formal way and founded the International Association for SAP Partners (IA4SP). IA4SP is the first and still only formal partner community outside SAP, but also closely aligned with SAP user groups, i.e. DSAG. The author of this column is co-founder of IA4SP, which as of 2017 has more than 130 member companies from all SAP partner categories.
Members include Amazon Web Services, Arvato, Seeburger, SNP, WordFlow and many more. The goal of IA4SP is to coordinate interests and cooperate in partnership with IA4SP members and SAP in order to expand and improve the SAP partner ecosystems, in particular: Build an independent partner-network, improve planning security through coordination with SAP, for example in sales, development, consulting, support and training. Get involved in the continued development of the SAP partner ecosystem.