The two entities jointly organised an introductory workshop and design thinking session to anticipate future trends and come up with innovative ideas for the sustainable development of the tax sector.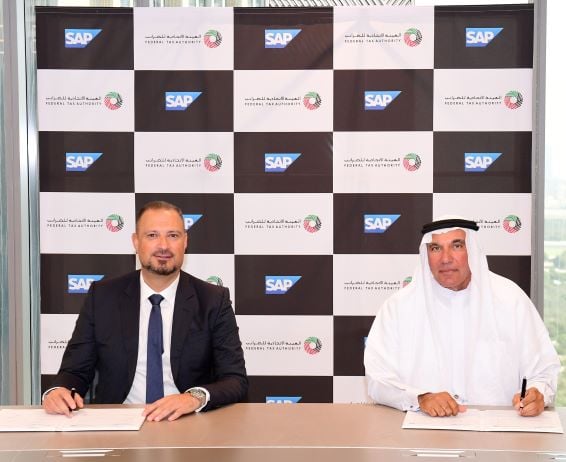 The UAE's Federal Tax Authority (FTA) has signed a memorandum of understanding with global technology company SAP, which specializes in enterprise software solutions and cloud computing, to collaborate towards advancing the FTA's standing in the international tax sector. This is in addition to underlining its role in driving sustainable financial diversification, leading digital transformation efforts, and efficiently implementing innovation and smart technology plans.
The MoU was signed by his excellency Khalid Ali Al Bustani, Director General of the FTA, and Zakaria Haltout, Managing Director of SAP UAE.
The agreement, which was signed at the Authority's headquarters in Dubai, aims to implement plans to upgrade and develop the FTA's basic operations, introduce a new generation of digital services, and launch various initiatives, such as using artificial intelligence (AI) technologies at the FTA, as part of its strategy to anticipate the future of the tax field and achieve global leadership in tax procedures.
The Federal Tax Authority stressed the importance of this step, which forms part of its plans to take proactive future measures to sustainably upgrade tax procedures in the UAE, promote a culture of proactiveness and future planning in the FTA, and setting a road map for developing digital tax services in collaboration with experts in the government and priVATe sectors. The FTA will work together with stakeholders in the tax, business, and technology sectors to support its efforts to become a world-leading tax authority, set plans to address developments in the business and services sectors, and seize promising opportunities using the latest technological solutions.
The FTA noted that the MoU with SAP provides an effective framework for cooperation with SAP towards enhancing development efforts, including workshops focusing on design thinking and innoVATion, awareness sessions, and technical presentations, which bring together all relevant business and technology sectors.
As part of their joint collaboration, the FTA and SAP held a joint panel discussion at the latter's headquarters in Dubai, where attendees discussed the most notable digital solutions, designed to enhance quality and efficiency in tax management and collection, facilitate compliance with tax obligations, and ensure the utmost transparency.
A joint design thinking session was also held, bringing together employees from various departments in the FTA with representatives from SAP, to explore ways to develop a roadmap for the future, and discuss innovative ideas to sustainably develop the tax sector, enhance customer experience, and streamline procedures, in order to ensure continuous improvement, quality, and efficiency in the services provided.