The SAP Startup Focus Series is a showcase of the companies and people behind SAP's Startup Focus Program. The program enables young companies to make their big data, predictive and analytics solutions come to life with Hana.
Luisa Silva (pictured below) is at the forefront of SAP's Startup Focus program with regular appearances as a speaker at expos, conventions and events. She recently took time to speak with us about what the scope of her job, challenges and experiences.
Luisa, what exactly is it you do at SAP Startup Focus?
As Global Director for Market Enablement and Go-to-Market at SAP Startup Focus Program, I represent a bridge between the participating startups and their target market customers.
More specifically, I identify the high potentials and help accelerate their maturity and market traction, both from a go-to-market strategy perspective as well as on understanding how to navigate SAP and by involving them in relevant market exposure / customer engagement initiatives.
My role is very broad, threefold to be precise.

It includes responsibilities at different touchpoints of GTM. On one hand, me and my team review and promote these startup's market readiness.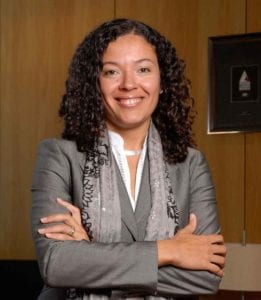 On the other hand, in collaboration with the multiple Market Units, we enable SAP Customer Operations on the portfolio of startup solutions to focus on.
We also plan and support relevant market exposure for the startups (industry events, media and press exposure, innovation showcases, etc).
Additionally, we provide them with guidance and support through initial sales cycles in collaboration with SAP.
Finally, we also guide the startups through funding opportunities both within SAP stakeholders as well as through our Investor's network.
What are the challenges you face on the job?
This role is simultaneously the most interesting and at the same time the most challenging I've taken so far in my career. It requires a broad understanding in multiple industries, business models and market challenges for a digital economy.
At the same time planning and execution requires alignment and support from multiple areas within SAP (Product, Industry, Sales, Presales, Marketing, communications, etc) there are so many stakeholders and touch points in go-to-market perspective.
With SAP being a company with over 90.000 employees globally these are not easy tasks. Still it is a lot of fun and rewarding as well, considering we get good support from the company leadership at diverse levels.
Another challenging aspect of my job is that these young companies, being so early in their establishment phase, often lack important resources, such as budget.
Even though Startup Focus offers them a lot of support by sponsoring activities which would have been too costly for the startups to attend or undertake, there are still some parts which need to be covered by the startups themselves.
In those cases, I mostly "think like a startup" and help them find alternative ways that will still allow to execute and achieve the desired goals!
Can you share the best moment you had so far?
My wins in this job are when the startups win. My favourite part of the job is that we are bringing value and causing positive impact in the entrepreneurial ecosystem, both through our startups partners, as well as through the entire Startup Focus initiative and global team.
If I am to give an example of success I will take the one from Celonis. A Munich based startup with whom I started to work directly around 3,5years ago. Celonis had a great use case and a good founding team.
The company had less than 10 employees and no formal valuation in the market but they had a clear view on the new software category they wanted to bring to market: Process Mining.
Today they've more than 100 employees, a significant company valuation, have raised 27M from top VCs in the market and have signed a reseller agreement with SAP that brought their solution into SAP's 3rd party pricelist.
What Startup Focus Does
The Startup Focus program is SAP's global virtual accelerator working with startups that target the global enterprise customer.
The program is designed to help promising startups in the Big Data, predictive and real-time analytics space to develop new applications on Hana and to accelerate market traction.
Since its establishment in 2012, the program has gained a lot of momentum. Currently, over 5000 startups are building their applications on Hana, of which 60% are outside of the traditional SAP ecosystem.
As of now, over 250 startups have developed a minimum-viable product and are thus part of the market enablement and go-to-market phase of the program.
The key benefits of the Startup Focus program are the following:
Technology: Immediate access to Hana
Resources: Access to technical experts and marketing & sales enablement support
Customers: Potential to access our global customer base (350 000) to sell market-ready solutions
Money: Opportunity to pitch to the venture community – no cost, no fees, no equity
Community: of entrepreneurs, partners, investors & thought-leaders
The Startup Focus program is not restricted to specific industries startups. In fact, currently we have startups that operate in 24 different industries.
The program is designed for startups that that are in the Big Data, predictive and real-time analytics, with a major focus in Machine learning, Artificial Intelligence, Data Security, Internet of Things, mobile, cloud etc.