Many industrial firms have not yet made full use of the possibilities of digitization. Work instructions, technical drawings and orders are still printed on paper; manual feedback or releases are common. SEAL Systems shows how they assist businesses in making their SAP systems fit for paperless production.
Production processes which use paper can be cumbersome and prone to error. The conversion to a digital, paperless production, however, brings many advantages: it saves time, money and resources, and reduces susceptibility to errors in processes.
Printing, sorting and distributing print orders becomes a thing of the past, the primary tools now being the digital production server and the clients connected to it.
Screen 2 Screen
Release directly in SAP enables all employees to receive their order information and documents immediately, on their screens (PC, tablet or smartphone) at their workstation.

These screens are not only used for display, but also serve for process and inspection feedback, and for the capture of charges and serial numbers. This feedback is captured directly in the corresponding client and then recorded in SAP.
This direct feedback makes the current status of the production process transparent for all involved.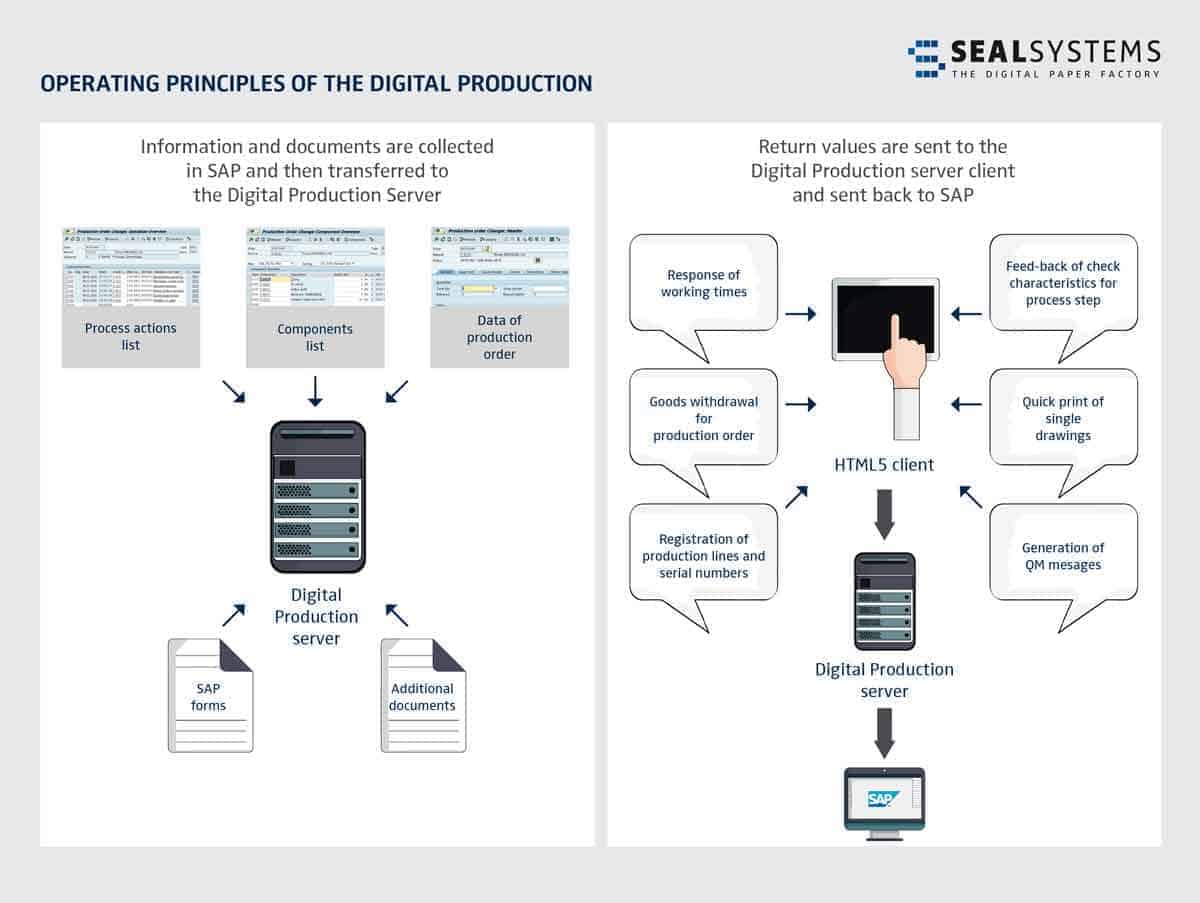 Advantages of Paperless Production
SEAL states the biggest advantages in in switching to paperless operations are not only limited to the often cited savings in time, cost and personnel deployment.
Often overlooked but nonetheless as important to many companies are improvements in the entire production process owing to fewer work steps in comparison to paper-based production.
Not only does the move do away with manual distribution or unnecessary printing, being able to send feedback directly screen-to-screen allows for processes to become more transparent and comprehensible.
Configurable User Interfaces
To get the job done, SEAL offers widely configurable user interfaces that are intuitively operable so that they can also be easily handled by employees who are not IT-savvy.
Furthermore, videos can be utilized for complicated production processes. Paperless production likewise offers the possibility to send 3-D models from CAD, and other important documents for the production process, to employees or clients.
Paperless production has, then, all the advantages – and none of the disadvantages – of paper.