SAP Partner all4cloud will demonstrate their new Industrial IoT (IIoT) solution live for the first time at Sensor + Test trade fair later this month - from the malfunction to the feedback of a technician, based on the SAP Business Design Cloud ERP solution and the specialized add-on eam4cloud.
The German industrial IoT market alone will more than double in the next five years to around 16.8 billion euros in sales in 2022. Condition-based maintenance will become extremely important for companies because it will accelerate maintenance and service processes. In addition, it serves as a data basis so that these can be planned with foresight. "It would be great if a machine could notify the service itself. For example, when an anomaly or disorder occurs", says Detlef Aden, IoT and digitization expert at all4cloud.
This means that machines can be made ready for operation again within a very short time – without seriously affecting the main business.
But who collects and transmits the condition data of the machine, system or facade element? Quite simply: sensors and counters. They report any deviation from the norm or malfunction without any loss of time. When this happens can be defined in advance on the basis of stored rules. One such rule could be: "Dear sensor, please report as soon as the vibrations of a machine exceed the defined standard level." In this way, sensors are already providing the service with unbelievable benefits.

Numerous advantages
Firstly, maintenance is no longer forgotten because the machines report that they are due. On the other hand, maintenance and inspection orders can be automatically planned, initiated and allocated – depending on consumption and condition. Predictive maintenance is therefore an IoT scenario that will become increasingly popular.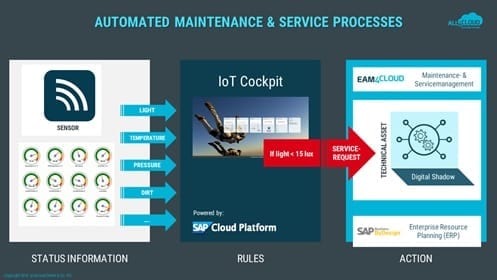 Thirdly, service processes can be freed from time-consuming administrative tasks. After a fault or maintenance message from a sensor, a work order is automatically sent to the technicians who take care of the matter. All data, such as time spent or the number of spare parts required, is then automatically reported to the ERP system. If the maintenance is not carried out in-house but as a service for a customer, an invoice can be sent and invoiced from the ERP system shortly afterwards. Thus, the process is almost completely automated.
For an IIoT scenario of this kind, companies need four things:
Sensors, meters & condition monitoring systems that provide values and data. Even old plants become IoT-capable, large new investments are not necessary.
A cloud-based enterprise asset management solution that can create and manage a digital twin of the asset or product.
A Cloud ERP, such as S4 or SAP Business ByDesign.
A cloud platform as an IoT cockpit.
Detlef Aden: "The digitization of the industry is advancing and changing production processes, ways of working and services. Almost 80 percent of processes can be automated. With the help of intelligent technologies, companies can nowadays also operate their service or maintenance more efficiently than before. And all this live in the system."
Digitization thus offers advantages to all parties involved: It accelerates processes. Customers are satisfied faster. Maintenance staff are freed from administrative tasks and can concentrate more on what they like to do: design, build, repair. And because top-maintained machines run longer and this with consistently high quality, investment costs for new machines are reduced.