Allgeier has resolved to complement its IT product portfolio by setting up an SAP business line in the shape of Allgeier Enterprise Services (ES). Traditional methods were not enough to realize the company's growth targets. Accordingly, innovative approaches to business development and process implementation had to be set in motion from the word go.
For Allgeier, an agile project methodology was the only option to ensure that deadline, scope and budget targets were met for the new SAP business line. The SAP Activate method provides full support for every aspect of these requirements.
The early availability of an S/4 Hana Cloud starter system was key to this method. This system features preconfigured best-practice scenarios, the associated process descriptions, the test scripts and, together with self-service configuration user interfaces (SSCUIs), the whole available configuration scope. SAP explained how these components work together at an onboarding workshop attended by the entire project team.
During this phase, the vastly experienced SAP consultants at Allgeier saw in no uncertain terms that implementation in the cloud is a different ball game to implementation in the on-premise world. In the cloud, there are obvious limits on the freedom to customize and on process-specific add-ons.

Essentially, only those processes documented in SAP's best practices can be configured. Above all, not having the tried and trusted IMG Implementation Guide takes some getting used to for experienced SAP consultants.
Although it is technically still available, only a few settings can actually be made via the Fiori interface. Experienced Abap developers too notice a pronounced difference to on-premise implementations: The entire Abap environment is no longer accessible in the form developers are familiar with.
Minor adjustments – such as extensions to fields and tables – can be made in the S/4 Hana Cloud system, but extensive proprietary developments have to be done on the SAP Cloud platform's central development infrastructure.
Finishing the Job
Getting to grips with this new reality demanded a lot of all the parties involved, both the project team and SAP, in terms of flexibility, openness and a willingness to learn. Ultimately, close collaboration, smart coordination and regular scrum prints brought the project to a successful conclusion.
"Innovation is a powerful driving force behind Allgeier's solution portfolio," says Allgeier ES board member Michael Schmidt, explaining the group's strategy. "That's why we decided to launch our new strategic SAP business unit 'Allgeier Enterprise Services'."
Schmidt adds: "It's also why we opted for leading-edge, highly innovative products in the SAP portfolio, such as S/4 Public Cloud, Concur and SuccessFactors. A clear strategic decision to join the SAP lighthouse partner program for SAP Public Cloud solutions is helping us position ourselves as one of the leading providers of SAP Cloud solutions in German-speaking Europe. At the same time, implementing and using these products for ourselves also supports our partnership objectives. I am convinced that the decision to add cloud strategy to our SAP portfolio is vital to our future success and that of our customers."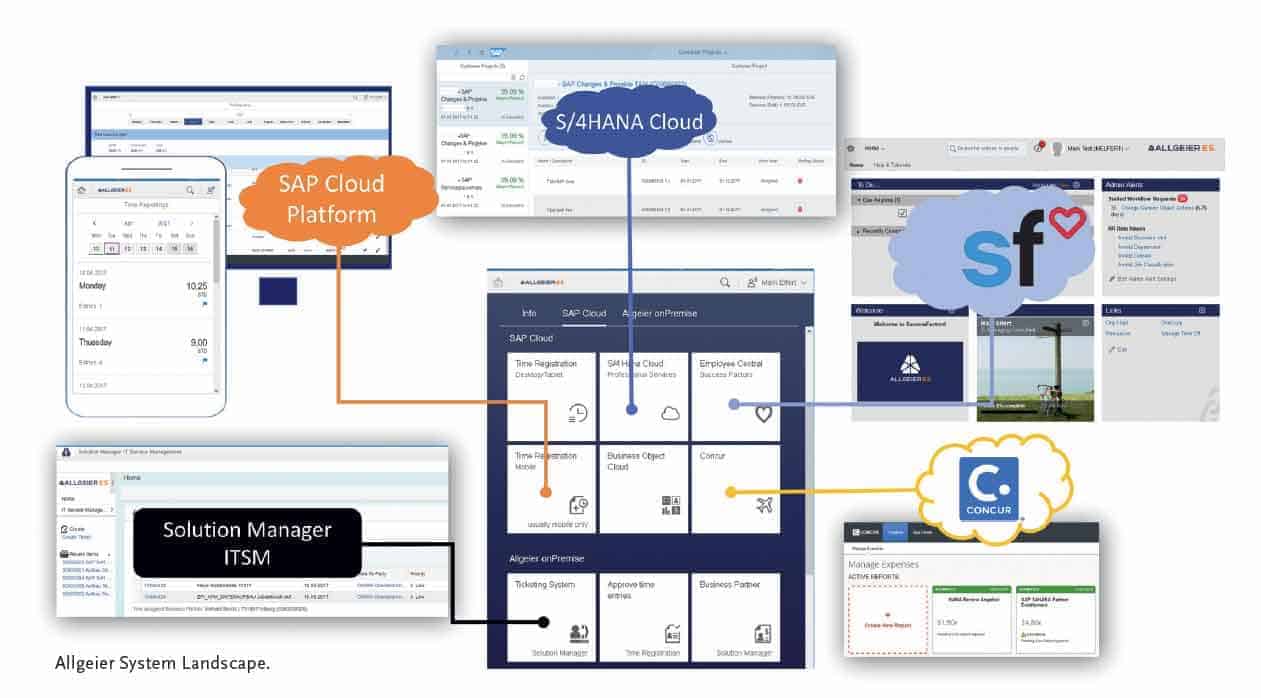 The Whole Range of SAP Products
To cover all the relevant processes, Allgeier ES's business model demands the use and integration of other SAP products too. Here, the on-premise Solution Manager with the ITSM component plays a pivotal role.
SAP's Concur product is used for travel expenses, while SuccessFactors (Employee Central) has been deployed for HR management.
The core time recording process used by all employees of Allgeier ES was implemented as a proprietary development based on the SAP Cloud platform.
This solution features both a browser application optimized for desktop use and a mobile variant for use on smartphones and tablets. Getting everything to work together in this heterogeneous system landscape was the next major challenge for the project. Thanks to close collaboration with SAP's specialist departments, however, it was possible to set up a single interface that is based on the SAP Launchpad and accessible to all users via single sign-on.
Ready in Three Months
In the past, SAP implementation projects have had the reputation of being difficult, laborious and expensive. Yet using the SAP Cloud solutions enabled Allgeier ES to establish a system landscape that supports all relevant processes in just three months.
This approach avoided heavy investment in hardware, infrastructure and licenses, and the chosen operating expenses model is billed solely on a subscription basis. SAP Cloud implementations thus strike an attractive balance between customized process implementation and implementation efficiency.
Also, installation in compliance with recognized standards automatically ensures a healthy quarterly release capability and the permanent availability of innovations. In this project, Allgeier ES has succeeded in adding innovative cloud solutions to the familiar on-premise service portfolio (implementation, expansion, operation and managed services).
Not least thanks to the experience it gained from this project, Allgeier ES was selected by SAP as one of only a small number of lighthouse partners for its SAP Cloud business. Any company looking for an ERP implementation solution will find SAP S/4 Hana Cloud to be an extremely attractive
option.
"In the space of just ten weeks, we successfully implemented the entire business backbone for Allgeier ES," notes Adalbert Schopp, CFO at Allgeier. "The
processes available for professional services leave more than enough flexibility to develop our business and respond to the needs of customers."