Ralf Meyer takes you on a tour of the building blocks of the SAP ecosystem. [shutterstock: 650755984, Richard van der Spuy]
This monthly column is a guide to SAP ecosystem opportunities, challenges and how to successfully manage them. It is based on the book "Profit from the SAP Ecosystem" by Synomic's Ralf Meyer and combines startup methodologies with proven SAP ecosystem best practices. Based on the experience from more than 50 SAP partner companies, 25 business models and 22 SAP partnership models. The author covers the SAP ecosystem, partner models, business model and value proposition design, SAP solution alignment, indirect-SAP-usage, partnering, go-to-market, strategy development and more.
SAP in the software industry and the SAP ecosystem
With more than 355,000 customers in 180 countries, EUR 22 billion revenues in 2016 and 87,000 employees in 2017, SAP is the largest business software provider and the number 3 of all software companies worldwide. SAP also acquired more than 50 software companies in its history and invested more than 20 billion US dollars in M&A in the last 5 years alone. Further impressive key performance indicators (KPI) underline that SAP is the number one ERP and business software player:
SAP customers represent 100 percent of the top-scoring companies in the Dow Jones Sustainability World Index, 98 percent of the top 100 most valued brands in the world and 87 percent of the Forbes Global 2,000 companies.
SAP Ariba is the world's largest business-to-business network, connecting more than 2.5 million companies in 191 countries. SAP customers produce 70 percent of the world's gold and more than 70 million barrels of oil per day. SAP's global banking customers manage assets worth more than USD 70 trillion. Estimated 74 percent of the world's transaction revenues "touches" an SAP system with $16 trillion in affected consumer purchases around the globe.

But SAP is far more than a single software vendor and the SAP ecosystem is the largest business software ecosystem in the world.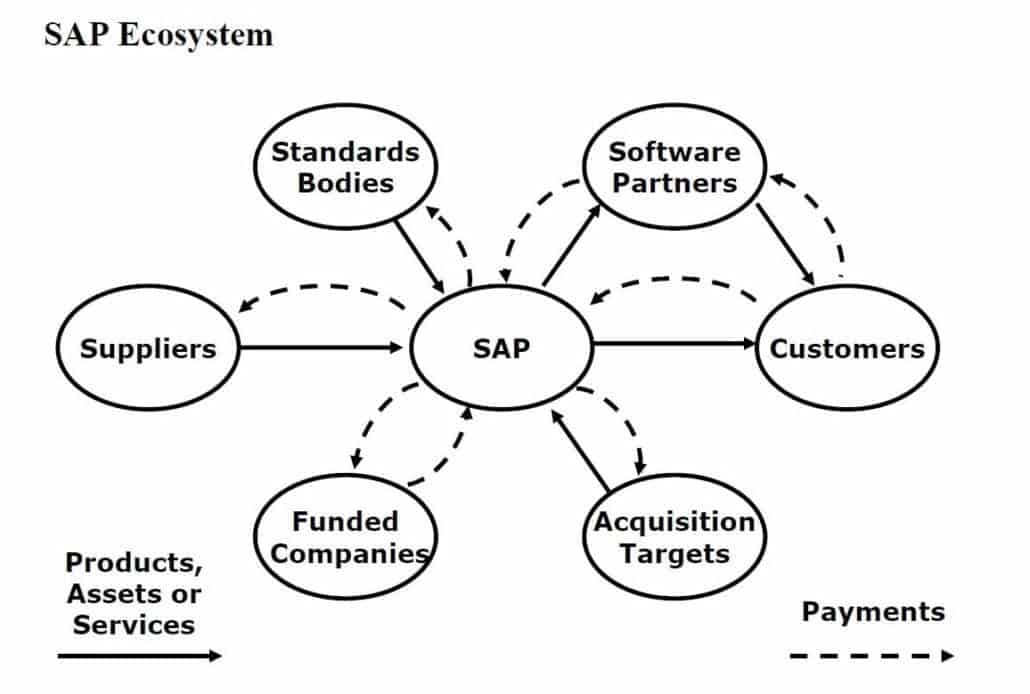 What is a software ecosystem?
A software ecosystem is a set of companies that exchange products or services to serve a common goal or to achieve higher-level individual goals. Often, companies in an ecosystem are aligned along value chains, where each of the steps of the value chain adds value to the goods and services before providing them to the next step of the value chain.
More than 15,000 official SAP partner companies account for 30 percent of the SAP's overall business. Half of major enterprise deals and 85 percent of new customers are influenced by channel partners. Beyond the official SAP partners, thousands of inofficial partners, two million SAP community network members and millions of SAP consultants (alone 225,000 are working at the Top25 consulting partners) make up the SAP ecosystem's huge success.
(…) several initiatives and programs have been successfully established over the years. An important differentiator of partnership models is the joint GTM defined for the partnership.
While in 2016, approximately 85 percent of SAP's revenues were still delivered via on-premise solutions,  the SAP cloud solution portfolio – which for example includes Hybris and SuccessFactors, 3,000 listed SAP cloud partners and more than 125 million cloud subscriptions –  is gaining lot of momentum too.
Hundreds of thousands of companies rely on SAP for running their mission-critical business processes, creating dependence on SAP products, but also long-term bindings for SAP partner solutions.
SAP has a very successful track record with system integrators (SIs) which have grown substantially with SAP and SAP has grown with the SIs, too.  Additionally, there are numerous very successful partnerships with software companies complementing the SAP offerings.
Significant differences in GTM
Furthermore, several initiatives and programs have been successfully established over the years. An important differentiator of partnership models is the joint go-to-market (GTM) defined for the partnership.
Low-impact GTM means usage of SAP logos, mention on a SAP portal or web page, but no further joint GTM. High-impact GTM means that SAP and partners are sharing customer prospects and are jointly going to market with a defined budget and headcount explicitly dedicated to the partnership.
Looking at the sheer number of low-impact and high-impact partnerships, there is a clear distinction in the SAP partnership strategy: Low-impact partnerships are targeting economies of scale for SAP, low SAP investment and involvement, massively increase the number of partners.
Examples are the certification programs e.g. for SAP Hana, SAP open ecosystem partnerships, SAP PartnerEdge, and the SAP Referral Program. High impact partnerships are targeting massive increase of revenue for SAP while strengthening the portfolio of SAP, high investment (budget and headcount) by partners and SAP, defined sales projections, sales execution monitoring and governance. Examples are partner solutions resold by SAP, SAP solutions used as OEM component.