SAP, their strategies and technology have changed significantly over time. [shutterstock: 592651886, Stas Knop]
This monthly column is a guide to SAP ecosystem opportunities, challenges and how to successfully manage them. It is based on the book "Profit from the SAP Ecosystem" by Synomic's Ralf Meyer and combines startup methodologies with proven SAP ecosystem best practices. Based on the experience from more than 50 SAP partner companies, 25 business models and 22 SAP partnership models. The author covers the SAP ecosystem, partner models, business model and value proposition design, SAP solution alignment, indirect-SAP-usage, partnering, go-to-market, strategy development and more.
Over the years, SAP gone through several growth phases we will explain in this episode.
SAP growth phase 1: Scale by delegating most of consulting services to partners
In the first growth phase, SAP was only selling on-premise Enterprise Resource Planning (ERP) Solutions to large companies. SAP owned a middleware technology stack and decided against selling the technology at that time. The technology stack was shipped to customers tightly bundled with the SAP applications running on it. The solution complexity and customer success created immediate demand for consulting activities to implement the solutions. As a result, the growth of SAP was dependent on and limited by the number of consultants available.
From the very beginning, SAP delegated large shares of the SAP-related customizing and implementation services market to its consulting partners. Since SAP had many consulting partners, they could scale quickly to the growing consulting demand for SAP solutions. At the same time, the consulting partners could grow with the increasing SAP software business – even earning more consulting revenue than SAP was from selling their software.

SAP growth phase 2: Product differentiation and sales by industry
SAP started to differentiate its offering from generic, function-oriented on-premise applications to industry-specific applications. It built industry solutions by reusing and building on the general functions of SAP's Business Suite offering, blending it with industry-specific functions and best practices. It reorganized and refocused its sales organization to serve both target markets. The sales and distribution model targeted on-premise installations and direct sales to medium to large-sized customers.
The sales and distribution model targeted on-premise installations and direct sales to medium to large-sized customers.
At that time, SAP regrouped industries into three industry clusters – manufacturing, financial and public services, and service – as follows:
Manufacturing: covering aerospace & defense, automotive, chemicals, consumer products, engineering, construction & operations, high tech, industrial machinery & components, life sciences, mill products, mining and oil & gas.
Financial and public services: covering banking, defense & security, healthcare, higher education & research, insurance and public sector.
Service: covering media, professional services, retail, telecommunications, travel and logistics services, utilities and wholesale distribution.
This product differentiation allowed SAP to become competitive in many industries while reducing the cost to provide industry-specific solutions by reusing the core functionality of the SAP Business Suite.
SAP growth phase 3: Customer size differentiation and sales by size
The next growth opportunity for SAP was to differentiate between its customers by size, implementing sales, customer services and support by size of the customer company. Initially, it especially focused on the large customers. The solutions are characterized as follows:
SAP Business Suite:
This is SAP's cash cow, a complete business management solution targeted at companies with 2,500 or more employees.
It includes SAP ERP.
SAP Business All-in-One (A1):
This solution is based on SAP ERP and is pre-configured using the SAP Best Practices.
It is sold by SAP and implemented by SAP or one of its experienced partners.
SAP Business One (B1):
This business management solution targets small businesses.
SAP Business ByDesign (ByD):
This on-demand business solution is based on SAP NetWeaver. It is designed specifically for medium-sized companies that want to migrate to an integrated suite of business applications.
 Sales is also differentiated by customer size. While SAP still wants to completely own the sales to large enterprises, sales for small and medium-sized companies is organized differently. For small and medium-sized enterprises (SMEs), SAP aims to scale the sales of SAP solutions by leveraging partners to outsource lead generation for selling specific solutions to partners. How this works is described in later episodes.
SAP growth phase 4: Cloud and network business
SAP has chosen to provide all steps of the value chain in its cloud offering, which covers the following: Hana Enterprise Cloud on which customers can run their solutions in a private cloud hosted by SAP,  S/4Hana, a cloud-based ERP platform, which runs on another offering, the SAP Cloud Platform. The infrastructure for SAP cloud solutions can be provided by SAP, but the cloud solutions also run on all major infrastructure-as-a-service providers, including Amazon Web Services, Microsoft Azure and Google Cloud.
In addition, SAP has acquired several cloud-based companies, including: SuccessFactors,
Fieldglass and Concur – that offer cloud-based solutions for human resources and travel management.
At SAP, the cloud already accounts for a large share of its business and counted upwards of 130 million users in the cloud, just five years after entering this market in 2011 with its acquisition of SuccessFactors. It aims to become the biggest cloud applications provider both in terms of number of customers and revenue. To follow this strategy, SAP has created organic offerings like the Hana Enterprise Cloud (HEC), a private cloud offering for all solutions running on Hana, or the SAP Cloud Platform (SCP). Meanwhile, the company has started repositioning its Cloud offerings under the motto "SAP Cloud for Finance, SAP Cloud for People, SAP Cloud for Customers, and SAP Cloud for Suppliers". SAP is betting on its success in the cloud, and hopes that its partners will, too.
Now, SAP aims to provide and operate proprietary business networks to connect SAP customers in one system (…)
Business Networks
SAP is a vital part of existing global business networks. In the past, SAP customers and partners implemented and operated on-premise business network solutions on a system basis in data centers at its customers and partners. Now, SAP aims to provide and operate proprietary business networks to connect SAP customers in one system in SAP data centers and to offer business networks to its customers: Ariba for procurement, Fieldglass for temporary workers and Concur for a travel business network.
By doing this, SAP, its partners and its customers can enjoy network synergies that attract more customers and partners to the business network. In terms of the overall transaction volume, business networks are a huge business for SAP. According to SAP, its transaction volume in its business networks was valued at approximately USD 780 billion in 2016, which is much higher than the transaction volume of Amazon ($136b), Alibaba ($16b) and eBay ($9b) combined (which focus on B2C).
Leveraging the SAP ecosystem
Another growth opportunity for SAP is to better leverage and grow its large, existing ecosystem. While SAP offers all parts of the value chain, it also leaves a lot of room for partners.
The following figure shows which partnerships exist along the value chain of SAP.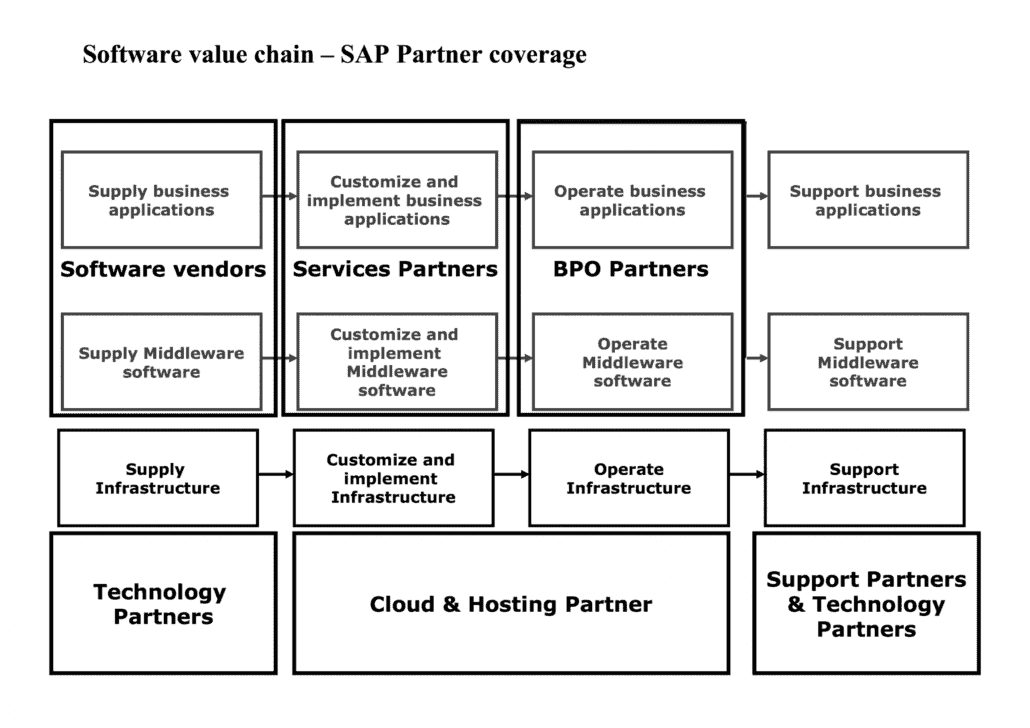 Software vendors create and sell business applications and middleware products. Software vendors also provide maintenance and support services for their own products. The idea is to complement SAP business applications and SAP middleware products. To ensure that SAP platform products are adopted, software vendors are asked to port their applications onto the SAP platform stack.
Example
NRX Global  is an example of a Software Solution Provider. Their solution is endorsed by SAP, which means that SAP endorses the use NRX's solution at SAP customers and SAP gets a share of NRX's revenue from its SAP customers.
Technology partners provide the infrastructure for running SAP solutions. They include companies that provide operating systems, databases, network devices, computer hardware and mobile devices. They also team up with SAP provide support to their joint customers. Support is a key service for customers who use SAP software for critical business processes.
Example
Cisco, Intel, Microsoft and Sun are perfect examples of technology partners. Cisco provides network components; Intel provides the processors inside computer hardware; Microsoft offers operating systems and databases on which to run SAP applications; Sun provides hardware and operating systems as well as Java platforms.
Cloud and hosting partners, such as Amazon Web Services, Microsoft Azure and Google Cloud, run the SAP Cloud and SAP cloud solutions in their data centers and offer them to their customers.
Service partners customize and implement business applications, middleware and infrastructure technology. Typically, these service partners also offer other services to their customers, from operating to supporting business applications, down to supplying business applications via the cloud and hosting partner model.
Example
Examples of services partners include T-Systems, IBM Business Services, Satyam and Infosys. They all offer customizing and implementation services among other services to SAP customers.
Business process outsourcing partners (BPO partners) operate business applications together with the underlying middleware and infrastructure technology stack on behalf of SAP customers.
Example
T-Systems, Accenture and EDS are examples for global BPO providers. They provide e.g. outsourcing for Human Resources solutions of SAP. BASF IT Services and Tata Consulting Services are examples of regional BPO providers.
Support partners provide, for example, support services together with SAP-to-SAP customers. Here, SAP provides support in the first instance for SAP solutions and selected partner solutions, while support partners take over next-level support for SAP's selected partner solutions.
Example
Examples of support partners are Chengdu Digitalchina Limited, Realtech and HPE.
SAP's strategy for future growth
SAP has communicated its strategy for future growth. The goal is to increase revenue and market share as well as profitability. The strategy rests on six main pillars: Organic growth, Co-innovation, Strategic mergers and acquisitions (M&A), Owning and running business networks, Internet of Things and Healthcare.